March 1st, 2013 by jacqueline
Also printed in the Huffington Post
"Your job is to be a kick-ass student," I told my then-13-year-old daughter Maya. "Do that, take care of your little brother, walk the dog, and everything will turn out fine. Promise."
My darling Maya upheld her end of the bargain: straight A's, perfect attendance, gushing teacher recommendations, and more than respectable ISAT scores. She's loved her brother to pieces and has managed to walk the dog through Chicago's blistering winters without too much prodding. She's a good kid.
My friends are raising similarly amazing little munchkins, and yet, here we all are, waiting on pins and needles for the CPS computer to spit out a letter informing us if our kids made it into one of Chicago's selective enrollment high schools — about as likely as the Cubs winning the World Series.
Of the 10 selective enrollment high schools, five consistently rank in the top public schools in thecountry, and admission is fiercely competitive. This year, Payton accepted only 2.2 percent of the 10,969 students who applied. Both Young and Northside accepted less than 3.5 percent. With those odds, it's easier to get your high school senior into Harvard.
For decades, middle-class parents have been demanding more quality options, and CPS responded with several new selective International Baccalaureate and Fine and Performing Arts programs, with a separate (and even more complicated) admissions rubric. However, after US News and World Reportranked Lincoln Park as one of the nation's best schools (thanks to its IB cohort), getting into one of the city's long-established IB programs became nearly imposible. Receiving an acceptance letter from a well-regarded Fine and Performing Arts program is such a rarity, one imagines the whole neighborhood would erupt into a spontaneous FAME flash mob.
My little Maya has applied to all three types of schools — fingers crossed the kid aces the computer match, interviews like Katie Couric, and sails through her dance audition like Jennifer Beals.
Navigating the admission system used to be like reading entrails or the vast migration of birds, but CPS has worked hard to streamline the process. This year, CPS unveiled an in-depth online high school guide that even lists cut-off scores, and a nifty user-friendly point-calculation tool. Next year, parents can expect a single application for all high schools, a virtual one-stop-shop for selective enrollment, IB, magnet, STEM and CTE options. And yet, despite these many improvements, lots of middle-class parents are pining for the good ol' days.
In my city of Big Shoulders, where pay-to-play is an art form, well-connected or über-eager parents used to circumvent the official admissions process by currying favor with principals in a process that was universally called "making your presence known." But in 2011, CPS limited "principal discretion" to 5 percent and instituted a complex quota system defined by socio-economics factors instead of race. In a midwest version of Stratego, officials carved up Chicago into four distinct enrollment tiers based on median family rates of income, education level, home ownership, single-parent, English-speaking, and neighborhood school performance. While a student's 'free-and-reduced' lunch status would provide a more individualized measurement, 86 percent of all CPS students already fit that designation, plus the program is notoriously rife with fraud. In a city as historically segregated as mine, the new tier-based groupings are likely more accurate than not.
While everyone lauds transparency and accessibility, the blanket rubric puts all the kids in my group — regardless of actual circumstance — at a considerable disadvantage. For middle-class parents living in Tier Four, many of whom have poured their hearts and souls into improving their neighborhood public elementary schools, it's a bitter pill to swallow. My pal Debi Prince finally snapped when her seventh grader came home from school crying after her teacher told the class that if they lived in Tier Four and got one 'B' they wouldn't get into a get into a selective enrollment high school. "My suburban friends think I'm crazy for living here," Debi says. "I'm starting to see their point."
Not surprisingly, parents — particularly private school parents — were rumored to be falsifying their residency on SEHS applications. So much so, that CPS responded with a special hotline to turn in scofflaws to the Inspector General — as if narking might somehow free up one more coveted spot.
Given the stiff competition, scarcity of spots, and above-board application process, savvy parents try to give their kids every possible edge. Tier Four parents make their kids take SelectivePrep test-taking classes, solicit teacher recommendations, and craft inspiring personal essays (even though schools aren't supposed to accept them). Although the "official" Principal's Discretion Application process will open next month, skittish parents lobbying began months ago.
CPS argues that all the hype and hysteria skews the data. Of the students who scored at 800 or above on the SEHS exam, 89 percent received an offer; and of that pool, 41 percent got their first choice. However, the reality is that not every kid is qualified to go to the top schools, and parents need to widen their consideration set. This year, CPS opened five new Early College STEM Schools, a selective enrollment program at South Shore, and six wall-to-wall IB high schools will open next year. Harvard isn't the only game in town.
My crowd insists that this isn't elitist Snow Plow/Tigger Mom parenting at work: beyond the choice schools lies a steep academic cliff. This year, 18,000 eighth graders applied for 4,340 spots. When the dust settles, 13,660 kids will be kicked back into the regular CPS system, where less than 9 percent of all high students meet college readiness benchmarks on the ACT. Nine. Worse still, there's the unspeakable reality that many of these schools are downright dangerous. No school supply list should include a Kevlar vest.
Over the next few days, parents across my stormy, husky, brawling city are opening letters that will shape their future in profound ways. Some, who had the foresight to hedge their bets, will take out second mortgages to pay the hefty tuition at private or parochial schools; others will try their luck at one of the unproven new STEM or wall-to-wall IB programs; a small but intrepid handful will choose to home school; but most will pack-up the family minivan with all their kid-gear, creative energy, and potential tax revenue, and hightail it to the suburbs — and p.s. It won't be because they felt the siren's call of an Olive Garden.
December 4th, 2012 by jacqueline
Also printed in the Huffington Post
Dear Santa,
I imagine you don't get too many letters from pre-kindergarteners who haven't held a pencil or sung the alphabet or haven't heard a bedtime story. On behalf of the five million at-risk kids under five years old, here's a giant Christmas wish: Please save Head Start. Once a disadvantaged child starts behind, it's almost impossible to catch up.
Head Start is on the chopping block because Congress failed to come to an agreement on the federal budget as part of last year's national debt ceiling negotiations. Consequently, America's speeding toward a fiscal cliff, the dramatic combination of expiring tax cuts and looming spending cuts set to take place in January.
In spite of the fact that every dollar invested in quality early education delivers a 7 to 10 percent return on investment, by the time most of us have hauled-out our Christmas trees, some 100,000 current Head Start students from across the country (almost 4,000 in Illinois alone) might also get kicked to the curb.
"Without a quality education beginning at birth, today's children won't be equipped to take on tomorrow's challenges," said Diana Rauner, president of the Ounce of Prevention Fund, a Chicago-based early education advocacy group. "If we don't invest in young children today, we'll be having these same conversations in twenty years when the children at current risk for being cut off from Head Start arrive at adulthood unprepared to join the workforce."
The statistics are sobering. Disadvantaged children who don't attend quality early education programs are 50 percent more likely to be placed in special education and 25 percent more likely to drop out of school. They are 60 percent more likely to never attend college, 70 percent more likely to be arrested for a violent crime and 40 percent more likely to become a teen parent. If we fail to offer early learning programs that will help kids achieve in school and become productive, employable citizens, we're only going to get stuck with a much larger bill down the road for special education, unemployment and incarceration.
"Early childhood education programs are a critical piece of this puzzle and we are committed to directly supporting them," said Beth Swanson, Chicago Mayor Rahm Emanuel's Deputy for Education. "We have clear evidence that high-quality early education programs play a critical role in the future success of a child, and while some cities and states across the country are being forced to cut back, placing future generations at a disadvantage, Chicago is choosing to invest in early learning."
In my hometown, the mayor pledged a three-year investment in early education, starting with $10 million for this upcoming school year, drawn straight from the City budget. In real terms, 5,000 more children will have access to high-quality education, and 6,000 more will have access to essential wrap-around services, including parent engagement programs, dental and nursing care, and so forth. Chicago is taking a stand, but cities and states cannot sustain essential programs like Head Start alone. Federal support is critical.
And so, Santa, this holiday season, I'm turning to you for help. As times are tough everywhere, I suspect there's been some belt-tightening up there in the North Pole. In case you need to dispatch some sprightly elf to Washington D.C. to free-up funds, here are some more letters from concerned citizens your elf can give to legislators (add your voice here; it will take two seconds, promise). Fingers crossed that Dasher, Dancer, Prancer and Vixen can sail safely right over that nasty fiscal cliff.
The days are tick-tick-ticking to New Years, Santa. Millions of very good little girls and boys are depending on you.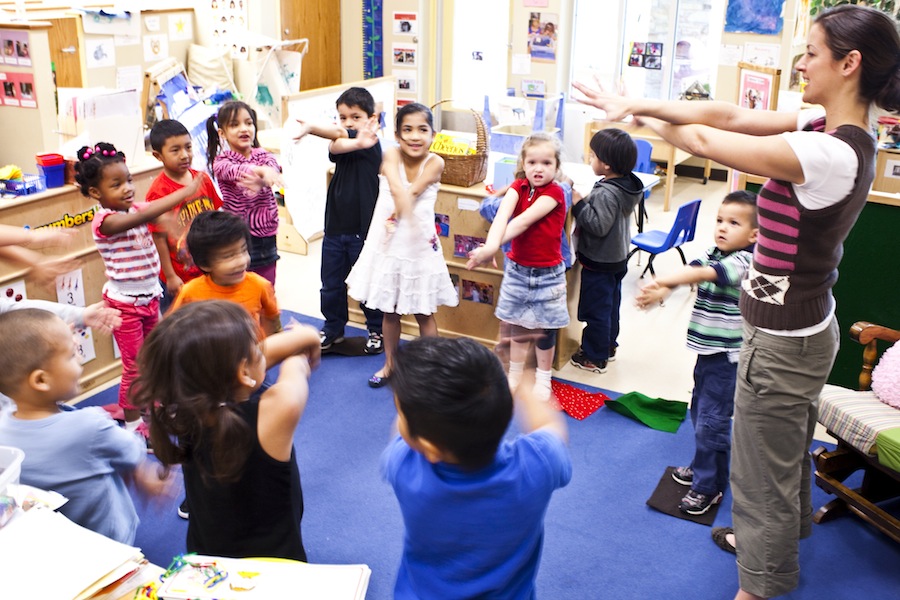 Preschoolers with their teacher during a Head Start classroom's circle time. Photo courtesy of the Ounce of Prevention Fund.
October 25th, 2012 by jacqueline
Also printed in the Huffington Post
Like many parents who read Amy Chua's Battle Hymn of the Tiger Mother, I flogged myself for raising two perfectly perfect child generalists. I've simply lacked the discipline or will to raise a dancer like Baryshnikov, a cellist like Yo Yo Ma, a tennis player like Venus Williams, or an engineer like… Um. Um.
The fact that I can't name a single rock star engineer didn't seem like a big deal until the second debate when President Obama argued that our country's economic salvation hinges on our kids becoming world-class engineers. We all know that our students need to do better at math and science to be competitive in the new world economy, and sure, we also want them to be crackerjack American innovators, but what are we really doing to motivate them?
If the Tiger Mom offers one approach to inspiring greatness, Chicago's dynamic 'maker' community offers an alternative: meet the Kangaroo Dad. By day, you can find these super dads holed-up in local incubators, meet-ups, or the two-day, invitation-only, groovy gathering of the Midwest's tech community called ORD Camp. In cyberspace and real space, these Kangaroo Dads are buzzing over how they can help build motivation through invention, entrepreneurialism and practical application.
Take Chicago inventor Joe Born, who watched his 10-year-old daughter, Lily, struggle with math homework night after night. One tearful evening, Joe decided to switch things up, and traded the weekend's assigned craft project for a home-baked 'invention' project. "I had two goals," Joe explains. "The first was just to focus some energy on something I knew Lily was good at, instead of just on the things she struggles with. The second was to teach her product development in the hope it would show her the importance of math and science."
Joe encouraged Lily to answer a real-world problem. Lily's grandfather has Parkinson's disease and often knocks over his coffee at breakfast. Lily played with a moldable plastic from Inventables Joe had leftover from ORD Camp until she landed on a unique stackable, three-legged design that's virtually spill-proof. With the help of her dad, Lily has spent almost a year bringing her "Kangaroo Cup" to market, even traveling all the way to her native country of China to have samples made.
"The Monday after launch, she went to school with a new found confidence that was obvious to everyone" said her dad, and with $10,000 in crowd-sourced pre-orders on Kickstarter and Indiegogo, her design is already looking like a success. Fingers crossed that Lily is lucky enough to graduate with an engineering degree debt-free.
"Lily's amazing story perfectly captures the spirit of what we want every kid to believe and achieve," says Kangaroo Dad Ted Ganchiff. Like Joe, Ted hoped to buttress his 10-year-old son's Alex's public school science program at Nettelhorst, the little elementary school my two kids also attend. After supervising the school's science lab renovation with funds from U.S. Cellular's Calling All Communities Challenge, Ted hit the pavement and forged partnerships with Chicago area entrepreneurs and universities for a pilot program, codenamed SEE (STEM and Entrepreneurism Exchange).
Last year, Nettelhorst fourth grade students teamed with university and professional mentors to conceive, rapid prototype and manufacture their own original products. At the end of the hands-on pilot, 83 percent of students said that they had a greater desire to be an engineer someday, and 78 percent said they knew "a lot" about developing products after the pilot, versus just 22 percent before. "With right kind of mentoring and guidance," Ted asserts, "our kids come to understand they have the power to become entrepreneurs and innovators, not just later in life, but right now, right here in Chicago."
If the Tiger Mom insists that parental drive motivates children to greatness, the Kangaroo Dad focuses less on blind discipline, and more on identifying his child's unique skills and spring-boarding from there, bouncing happily to wherever the spirit of innovation leads. And still more, every kid can succeed along the way.
As we navigate this new interconnected and inter-dependent age — a time which values invention, collaboration and dedication more than soul-crushing technical skill — perhaps it's time to rethink the uber-parent. Yup, Kangaroo Dads. They're the future. Hippity-hop.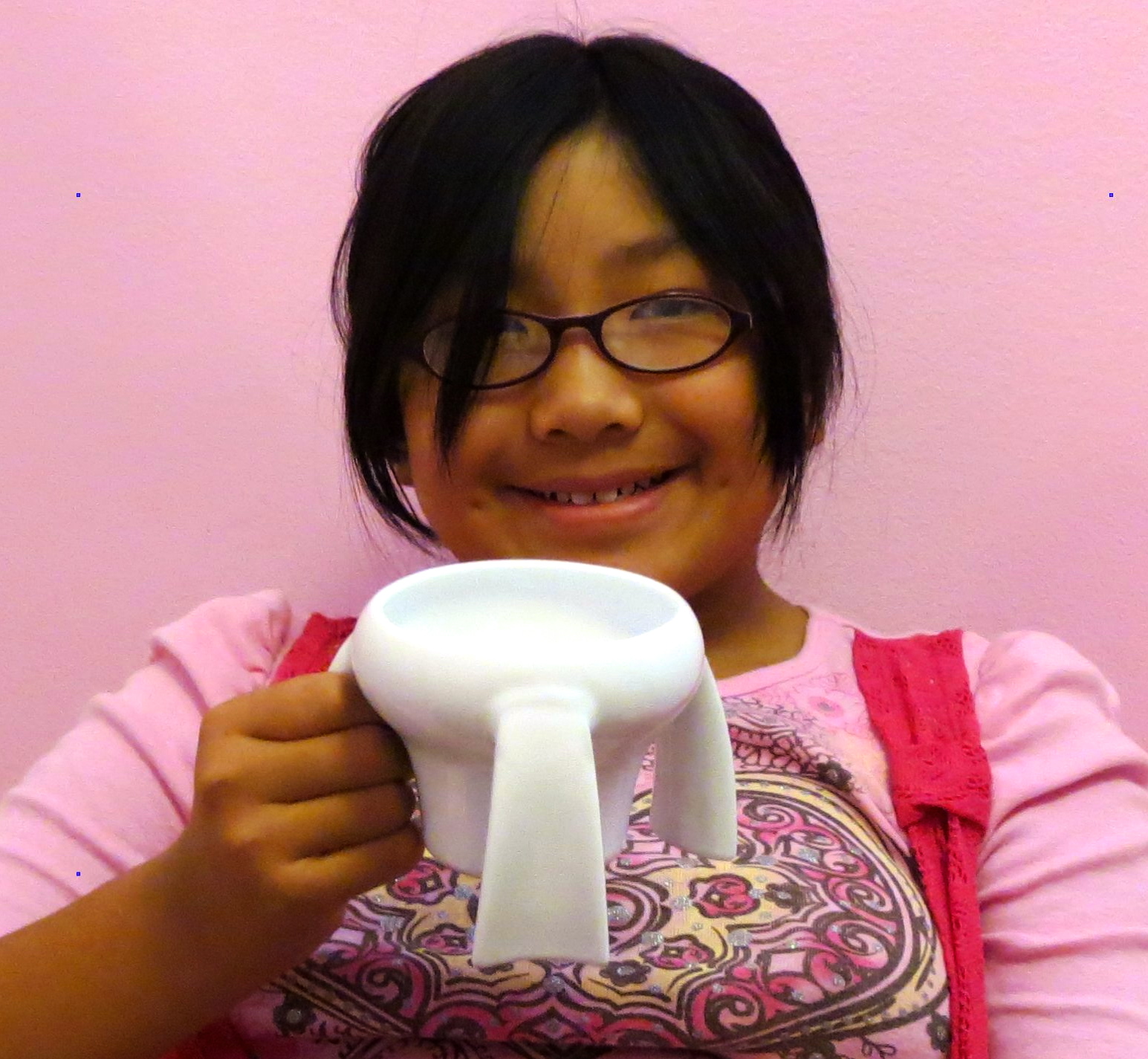 Ten-year-old inventor Lily Born shows off her Kangaroo Cup
September 16th, 2012 by jacqueline
Also printed in the Huffington Post
Dad: Okay, kiddo, bedtime.
Daughter: But Daddy, I wanna stay up and watch TV.
Dad: Sorry, sweetheart, it's a school night.
Daughter: Um…strike.
Dad: Ooooooooh right—Let's watch Conan!
This was not just any Second City show. Joining main-stage actors for a spirted game of freeze tag were the company's administrative assistants, instructors, bartenders, and scores of CPS students improvising their little hearts out.
With all the hullabaloo, it's easy to overlook one of the most striking features of last week's strike: In my stormy, husky, brawling City of Big Shoulders, community members, faith leaders, parents, and neighbors came together to support our kids, the only ones truly shafted by this grown-up mess. From park districts to libraries to not-for-profits to private homes — almost every kid in this increasingly dangerous city had a safe place to ride out the strike. And because the near-bankrupt Chicago Transit Authority offered free rides to every CPS student, some 400,000 kids could even get there.
Thanks to the generosity of my fine city, my two kids hopped the #151 bus to Old Town (by themselves!) where they played improv games and studied sketch comedy at the Second City all day long. For free.
Crazy, huh? On Tuesday, Second City CEO Andrew Alexander walked into a staff meeting and declared: "All hands on deck — We need to do this!" Less than 24 hours later, Andrew's team had assembled scores of instructors for an impromptu CTU Strike Camp. Overhead from one lucky 11-year old: "Wow. This is the best strike ever!"
So, while politicians and pundits debate the real-life implications of Click Clack Moo Chicago style, here are the seven Improv principles some 50-plus CPS students learned at the Second City Strike Camp, lessons that will serve them well, both on stage and off (ahem, Rahm…Karen…you might want to grab a #2 pencil):
Yes, and… Saying 'no' is verboten; obstructionists are scum. A yes-man may boost your confidence, but he doesn't add much. You must move the scene forward.
Teamwork. As any Chicagoans who has helped a neighbor shovel-out his car after a blizzard can attest: We are all in it together. No grandstanding.
Honesty. Be true to your character. Own it. Midwestern integrity is a value.
Confidence. Don't waste time second-guessing. Sometimes your choices won't be popular — the hard ones seldom are.
Empathy. To feel for your teammates, you must truly listen — and that's hard (harder still if you don't make eye contact).
No Judgment. No bulling, no mocking, no exclusion, no cliques. Be respectful.
Laughter. Humorless people are exhausting. Have fun. Be Generous. Laugh hard.
In what has been a gut-wrenching experience for everyone, for all of it, I love, love, love my city. Fingers crossed this strikes ends soon. From the great Mark Twain: "Chicago — a city where they are always rubbing a lamp, and fetching up the genii, and contriving and achieving new impossibilities." Monday is a new day.
No need to wait for next year's inevitable strike over teacher pensions; The Second City offers exceptional programming for children year-round, including extended day camps during school breaks.
September 4th, 2012 by jacqueline
Also printed in the Huffington Post
Last week, on the very same morning Karen Lewis announced a ten-day strike notice, Abby at Crosstown Tree Service texted that a truckload of woodchips was speeding our way. Over the past four years, parents have been working like gangbusters to transform a narrow stretch along the side of my neighborhood public elementary school into an Outdoor Classroom, all on a budget of nothing. With ourribbon-cutting set for eight days away, Crosstown's donation was like manna from heaven. In the blink of an eye, a football field's worth of shredded trees almost completely blocked foot traffic on Aldine street.
The following day, while CPS and CTU negotiators locked horns in some airless room downtown, the East Lakeview school community dealt with the woodchip crisis head-on. Facebook pleas and old-fashioned carnival barking drummed-up scores of volunteers who gathered the school's random shovels, rakes and buckets and began the Sisyphean task of transferring woodchips from the ginormous pile, up and over the rusted 100 year-old wrought iron fence, onto the winding garden paths. Roughly seven sweaty hours later, the thankless job was done.
Had Fox News reported on the event, they might have noticed the absence of teachers, and held it up as yet one more example of their professional sloth. Of course, all our teachers were inside the building, diligently setting up their classrooms in preparation for the first day of school. No parent shoveling real or metaphorical woodchips in service to my school believes that our fine teachers are to blame for the crisis effecting American education.
And yet, I'm not the only parent who believes that a fair share of the fault lies with the CTU for it's unyielding defense of a broken system. Wendy Katten, the voice of Chicago's Raise Your Hand Coalition, is a steadfast Lewis supporter, but worries that the CTU leadership may have oversold. Many parents have come to believe that a strike could address everything from "class size, increasing positions for arts, seeking fair compensation that doesn't include merit pay, ensuring teacher recall, to staffing a full-time nurse, social worker, psychologist, etc. in every school, obtaining air-conditioning for all, to shutting down Astroturf groups and freezing the expansion of the privatization of our schools." And, polar bears and penguins and global warming, too.
Back in a June blog, I argued that collective bargaining addressed precious few of these issues, and begged stakeholders to cool their jets. The blowback for joining the "Against Us" camp in such a public forum was as fierce as if I'd drawn and quartered the schoolchildren in the front playground. Some highly credentialed and beloved teachers asked that I skip their classrooms during the monthly school tour (a tour that I've led for almost a decade). Some parents stopped short of canceling playdates, but made it clear that I was no longer welcome to stay for coffee. Still others would have applauded my centrist position had I not felt the need to be so snarky. If all politics is local, what happens to your own kid is about as local as it gets. With such dry tinder, I should've seen it coming.
Now, my skin is not particularly thick (a real problem for a blogger), but here's the truth: many of my fellow parents share my profound respect for teachers, yet still believe that there's plenty of blame to go around. Many also share my respect for unions and will not cross a picket line, come what may. However, a great many working parents, predominately those who are minority and disadvantaged, do not have the luxury to stand on principle. In this economy, I sure wouldn't want to be the one to tell a mom to keep her kid home and risk losing her job, especially when there's little chance that this dogfight will bring about significant change.
Unless, of course, the crazy dream I had last night comes true: Rahm, after a long chat with Quaxelrod at the Democratic convention, returns to Chicago to find that Lewis has actually — gasp — pulled the trigger, turning some 400,000 kids onto Chicago's increasingly dangerous streets. In a blinding rage, Rahm channels his inner Reagan, fires every single teacher, and carves CPS into charter pie. As a stopgap measure, suburban scabs and striking NFL referees fill teacher positions while the jobless reapply. The whole process would likely take a few weeks to sort out, time easily recovered by eliminating all the CPS holidays and professional development days, which were on the chopping block anyways.
I'm jolted awake by the mayor's first 7:00 am tweet from the vortex: "Pack your lunchboxes, little #$&*@s, time to go to school!" In 2016, Rahm runs for president as a fiscally conservative Democrat, best known for extending the Chicago school day and breaking the CTU (and wins).
The more likely scenario: teachers will go on strike on the 10th, kids will get bored, adults will sort-out adult problems, Springfield will be Springfield, Illinois will hold its rank as second-to-last in state education funding, CPS will slog-on under crushing bureaucracy and a $1.1 billion plus long-term debt, and the status quo will more or less continue.
On the bright side, Nettelhorst's Outdoor Classroom officially opens on the 8th, two days before the union's school bell rings. As it's technically not in-school proper, our students will have a safe, happy place to ride out a strike with their classmates without choosing sides. When the dust settles, and it will, all the players in this game will say that this conflict has taught our kids valuable lessons, although it's difficult to gauge exactly what those lessons will be from this side of history.
Like most of my mommy pals, I've spent my Labor Day weekend not celebrating labor, but buying school supplies and shelf-stable lunch fare. Strike or no strike, the kids frolicking about our new garden will be soaking up the last rays of summer sun and getting back to basics. I hope these five messages from our Outdoor Classroom will be as crisp and clear as the September air:
1) Reduce, Reuse, and Recycle.
2) Dirt under your fingernails feels good.
3) Sustainability is critical to the health of us all.
4) Growing things need lots and lots of water, air, nutrients and sunshine to thrive.
5) Work Hard. Play Nice. Share.
August 26th, 2012 by jacqueline
Come celebrate the opening of The Nettelhorst Outdoor Classroom at the Lakeview East Festival of the Arts on Saturday, September 8th at 10:30 am. Find our magical oasis at 3252 N. Broadway; follow the green sidewalk down Aldine.
"The Nettlehorst School has taken an important leadership role in a profoundly needed initiative to connect young children with nature, setting a wonderful example for education centers across the country," says Susie Wirth, Nature Explore outreach director for the Arbor Day Foundation.
The Nettelhorst Outdoor Classroom—open to students, teachers, parents, and community members—features musical instruments made of recycled materials, garden and sculptural elements, and natural materials for building, play and artistic creation.
Our project is the culmination of a four-year labor of love. The Nettelhorst Community Group is deeply indebted to our community.
Our supporters
Our Artists
Our Neighborhood Heroes
Tom Tunney

Sara Feigenholtz

John Cullerton

Michael Quigley

Rahm Emanuel
Please help support ongoing education programming with a tax-exempt donation at nettelhorst.org/dreams. Our school's success is proof-positive that it takes a village, and our village rocks.
In case of rain, we'll have a do-over the following day at 10:30 am.


June 10th, 2012 by jacqueline
Also printed in the Huffington Post
Let's be clear: I love, love, l-o-v-e teachers. The teachers at my kids' neighborhood elementary school,Nettelhost, individually, and collectively, represent everything that's right with public education. So much so, I'd put their education on par with any private school in this country — our teachers are that good.
I also respect unions. During the teacher strikes of the 1970s, my mom, who once taught seventh grade at Brooklyn's Ditmas Junior High, kept us home for weeks in solidarity (backgammon, anyone?). If Chicago's teachers do strike, rest assured, my kids and I will not cross a picket line.
Because I love teachers and respect unions, when NBC Chicago reported that more than 90 percent of teachers had given the OK to strike, my heart sank. While this vote doesn't guarantee a walk out, Chicago Teachers Union president Karen Lewis now has a green light to call for one at any point after August 17, the first day for a lawful strike. When Illinois passed the Education Reform Legislation(SB7), a law crafted by a diverse group of education stakeholders, this is exactly the volatile situation everyone hoped to avoid.
The new legislation sought to make strikes a true last resort by requiring transparency and an independent fact-finding process (37 states already prohibit teachers from striking). Back in April, both camps agreed to abide by a three-member fact-finding panel that includes Chicago Public Schools representative Joseph Moriarty, CTU Vice President Jesse Sharkey, and arbitrator Edwin Benn serving as the "neutral chairperson."
The law also dictates that 75 percent of all union members needed to authorize a strike, rather than a majority of vote-takers as previously required. If Lewis had waited for Benn to conclude his report on July 16, roughly two-thirds of the district's teachers would still be away enjoying their three month summer holiday, and 1,500 veteran teachers would have already retired (who would not be impacted by their vote). However, if she held-off until August 27, the week before school starts, Benn's compromise would have been on the table, and all 25,500 CTU members could have made an informed decision.
Although teachers are required to come back early for professional development and to set-up their classrooms, the sad fact is that many show up the day before school starts. Plus, 2,000 new teachers (of questionable allegiance) would have joined the ranks. Regardless of the margins, rested teachers are happy teachers. If Lewis hoped to reach the mandatory 75 percent threshold, waiting until the end of the summer was just too big a gamble.
With so much at stake, it should come as no surprise why Lewis also rejected an independent auditor to oversee the strike count in favor of ministers from ARISE Chicago, a workers-rights advocacy firm. "If I were in Karen Lewis' shoes," CPS CEO Jean-Claude Brizard said, "I would want to assure the masses this is done with integrity, that this could be defended in the event there is a call of voter fraud." In the city of Vote Early, Vote Often, government watchdogs, like Andy Shaw, have voiced a communal wince, but at this point, the train has pretty much left the station.
To reach the power of "yes," Lewis, who's polemical in even the calmest of circumstances, has whipped Chicago's educators into a full-on frenzy. We can thank Governor Walker's anti-union teacher-bashing rhetoric for laying the groundwork for the red-shirted mob now marching with pitchforks against the House of Brizard, where the lights are barely flickering under a $700 million deficit. Lewis' uncanny ability to cast Brizard — a man who was a teacher, whose wife is a teacher, and both parents were teachers — as the city's anti-teacher has been quite a hat trick.
In the Springeresque circus that's come to town, we've seen Lewis flanked by rabid parent Matt Farmer and perennial parade-marshal Rev. Jesse Jackson (extra ironic since disadvantaged minority children will be the ones most impacted by a strike). And whoa! Hollywood? Even Matt Damon has piled-on. By the time the bouncers, midgets, and 405,000 bored kids rush the stage, Wisconsin's pizza and beer slug-fest will look tame. This is exactly the kind of polarizing freak show that SB7 sought to avoid.
Many civic leaders, including Rev. Michael Pfleger, have implored teachers not to strike for the sake of the kiddies. How adults model conflict resolution sends a powerful message, and we don't want kids to overturn the table, hurl ad hominems, pick up their toys, and go home. Agreed, but we also hope to teach our kids to be courageous, self-respecting and tenacious. Teachers have a right to get paid an honest wage for an honest day's work. Surely we don't want to raise marshmallows, right?
The real danger here is not the message to kids, but the message to adults: Lewis' move to hijack the process in the name of garnering more leverage — which is her right — has likely oversold what the union can deliver. Enough teachers have given Facebook thumbs-up to high school teacher Eric Skalinder's open letter to Brizard that it's probably a good barometer of current sentiment.
Trouble is, Skalinder's litany of grievances could fill a menu at the Cheesecake Factory. Like everyone in the capitalist equation who endures certain things in exchange for a paycheck, I share his pain. I frequently do not "feel respected or supported" when my computer takes too long to boot up, or my online storage runs out, or my office gets too hot. I, too, get especially ticked-off when smart people don't pay me enough mind or stupid people make decisions for me.
It would be swell if Glenda the Good Witch could sweep in and solve all of Skalinder's issues, but precious few of them are subject to collective bargaining. SB7 limits the discussion to pay and benefits. Nothing else is on the table, not because Brizard is a bully who hates teachers, but because he's following the law — a law that both CPS and the CTU helped craft.
So, as we gallop-off for a well-deserved summer break, tucked inside the envelope of my teacher's end-of-year gift card will be this little note:


Dearest Teacher,

I hope you know just how terribly important you are, not just to my darling kiddo, but to me as well. You are the rock in our life.

Though this may not sit well, please, please don't strike. My community has spent almost a decade trying to build a schoolhouse that would do us all proud; a strike may very well undo all our progress. Do you really want to go back to Chicago, circa 1987?

Both the Mayor and the CEO have said that teachers deserve a raise. Hear, hear! I have no doubt you can reach a reasonable number (somewhere between 2 percent and 30 percent) at the bargaining table — the place where your leadership agreed to resolve disputes.

But most importantly, next year's students shouldn't miss one single, solitary, second of wonderful you.

Enjoy the summer! SB7/SPF 70,
Much love,
Jacqueline, a CPS mommy
March 29th, 2012 by jacqueline
Last month, my little, public elementary school, Nettelhorst, invited Karen Lewis, the President of the Chicago Teachers Union, to speak at what was billed as a Parent Appreciation Night. After a gushing introduction from one of our most beloved teachers, Lewis lamented the fact that Illinois ranks 49th in state education funding and praised our school community for facing the crisis head on.
Although some parents objected to being window dressing for what they felt was essentially a Teacher Appreciation Night, most were happy to play along. Sadly, I was out of town, but I'm supportive of any event that gives our teachers the recognition they so rightfully deserve. Our teachers, individually, and as a collective whole, represent everything that is right with public school education. I would put my kid's education on par with any private school in this country—our teachers are that good.
Karen Lewis: Victim of a Smear Campaign?
So, when the first email hit my inbox, I became apoplectic:
"Are any of you aware that Karen Lewis wants the funds raised by Friends of and other parent groups to be distributed equally among all CPS schools? This apparently came up after she visited Nettelhorst and saw the new playground equipment. She has been bringing this up during the CTU contract negotiations. It's hard to imagine that this could be done legally, but I think people should know where she's coming from."
Over the past weeks, this rumor has been flying through Chicago's tight-knit parent community like a game of telephone on steroids.
My first reaction to the news: Wow. Just wow. In a district that's beyond broken, my community has been working like gangbusters for almost a decade to rejuvenate its neighborhood school. The layers of insult are staggering: Here's the head of the Teachers Union — after enjoying a potluck dinner cooked by our award-winning teachers (some of whose salaries are paid from parent-raised funds) — addressing parents in our freshly renovated auditorium (made possible by parent-raised funds) with the audacity to use our über-devoted parents as a beating board in her street fight.
Folks can debate the injustice of a system that asks schools to self-finance until the cows come home, but our fundraising prowess is born of necessity, not greed. My school makes do with a quarter of the operating budget of a similarly sized school in a less-advantaged neighborhood. Does Lewis even know that representatives from over seventy public schools came together in our auditorium to learn from our example? A pox on her house.
As more and more emails from enraged parents jammed my inbox, I started to seethe: I imagined Lewis in a remake of one of my favorite Partridge Family episodes, the one where the gang has mistakenly switched dates with the Temptations and winds up playing a Detroit social club owned by Richard Pryor and Louis Gosset Jr. (for real). During the big finish song and dance number, we'd see snippets of Lewis wearing a ginormous tie-dye caftan, smoking a lil' dubbie, like back in the Dartmouth days, cruising around in the family's psychedelic bus, dolling out our fancy new auditorium chairs across every school in Chicago. When she runs out of chairs, she starts to divvy-up our professional quality sound and lighting system, and then, moves on to dismantle every other parent-driven capital project, including our new U.S. Cellular science lab, Blackhawks Fitness room, and Nate Burkus teaching kitchen. As a precocious Danny Bonaduce bounces on Nettelhorst's lone remaining chair in an otherwise empty auditorium, Shirley Jones and Lewis hug it out. C'mon, get happy!
"That's crazy," Lewis tells me (I only told her about the email, not the Partridge Family dance sequence). "It's beyond stupid. CPS could never solve the funding crisis by portioning off the miniscule assets of 501(c)3 Friends of groups citywide. What I have said, repeatedly, is that Nettelhorst is a great example for schools across the country. It feels like a home, not like a prison. Every school should have parents that care this much." It's hard to imagine how this lovey-dovey sentiment could threaten the powers that be in a CTU contract negotiation.
So, how did her big wet kiss get twisted into a closed-door Maoist rant? Admittedly, I had no trouble jumping on the bandwagon myself. It was an ridiculously easy jump — there's so much self-generated caricature on the web and in the press, it's as if Lewis had built me a springboard to crazy town, personally.
"As a teacher, I would ask you to reflect upon the reasons why you lept," she asks. "What made it soooooooo easy to believe that Karen Lewis would attempt to take money away from one group of children contractually? How would that even work? We live in a society in which our fears are preyed upon and used to magnify differences. That way, we can be easily manipulated to work against our own self-interests." Lewis believes that this kind of viral email is part of a carefully orchestrated disinformation campaign to turn affluent, northside parents against the CTU.
"This is no joke," says Maria Mikel, a recipient on the original email stream. Her two children attend Hawthorne, one of Chicago's most desirable magnet schools, and its PTA raises over $250K annually to pay for additional teachers. She insists that distribution in the name of equality isn't the point. Mikel argues that the CTU is running at a deficit due to gross mismanagement, and that Lewis is salivating over who controls these uncontrolled PTA funds, who gets hired, and how much they're paid. This fight is all about money and power.
If, indeed, Lewis really did make these statements, nobody will go on record with any details about exactly what forum, when, or to whom (don't judge: if Erin Brockovich lived in my kind of town, she might think twice about putting her own kids at risk). Nevertheless, sources insist this was a private email, sent to a handful of moms, the furthest thing from a massive cyberspace attack. Regardless of it's origin, or even it's veracity, the rumor has gained enough traction to generate a gazillion emails. Why?
"Unity is power," warns Lewis. "A powerful alliance between parents, community members and educators is a frightening combination. Right now, these affluent parents form the main group against the proposed seven and a half hour school day. How can my political opponents best incite them? Throw up some socialist nonsense that says an angry black woman is going to reach into their house and steal their money."
Like Lewis, Wendy Katten, the spitfire behind Chicago's Raise Your Hand Coalition, also suspects political games are afoot. However, unlike Lewis, Katten doesn't have a big problem lengthening the school day per se, if the Board delivered a bonafide funding stream to pay for it all. Should Lewis emerge from CTU negotiations with a overflowing firehouse fund — perhaps Susan Dey and David Cassidy pull-off a swicheroo with the $1.2 billion held in the city's notorious tax-increment financing (TIF) slush fund? — kudos all around.
Pretending that happened, Katten still worries about what benefits students would actually receive during these additional minutes. More of the same is more of the same. If the extra class time is not dedicated to the good stuff, like art, music, language, physical education, and so forth, RYH's thousands of parent members have voiced a collective yuck.
"At some point, we are going to have to move beyond the politics of education and have some real conversations with all stakeholders about how we can address the educational deficits in our school system," argues Katten. "We envision a time when education isn't so politicized and all parties can come together to discuss the educational needs of our children. This is what parents crave."
Longer School Day
The real issue on the table right now is the lengthening of Chicago's school day, currently one of the country's shortest. It's no secret that Lewis and I don't see eye-to-eye on a great many things, including merit pay, teacher tenure, and her vilification of Arne Duncan and Rahm Emanuel (in full disclosure, the Secretary wrote the Foreword to my book, How to Walk to School: Blueprint for a Neighborhood School Renaissance, and the Mayor wrote the Afterword). But for a moment, forget all that professionalism/accountability goo — the Mayor is simply asking teachers to work an additional thirty minutes. For those of us grateful to have full time jobs in this limping economy, such a request hardly seems like crazy talk.
The argument goes something like this: teachers are already "compensated" for a 7 hour work day. Their lunchtime may be technically unpaid, but that's pretty much the way it works for all working stiffs. Moreover, most workers cannot choose to shorten their workday and take their lunch at the end of the day. When 75% of all CPS schools declared themselves "Closed Campus Schools," students lost their recess, had their lunch shortened to 20 minutes, and their school day shortened by 45 minutes. Net result: Adults win; kids lose.
Many teachers, including some very fine Nettelhorst teachers, insist that these critics are using fuzzy math, and that criticizing the union ultimately hurts teachers. They argue that teachers are paid for only 6.25 hours. At my school, teachers have voluntarily given up a union mandated planning period so that every kid in building can have lunchtime recess everyday, guaranteed. Efforts to take precious minutes away from essential preparation and collaboration time hurts educators and children alike. Nettelhorst teachers are in the building well past six every evening, and on weekends, and over the summer—all unpaid. Surely, they aren't devoting every ounce of energy to our kids for a paycheck. Is a modicum of respect and compensation from the good people of Illinois really so much to ask?
This fight, like everything else in my bare-knuckled city, is political; and if all politics is local, what happens to your kid each and everyday is about as local as it gets. Just as war protesters are wrongly labeled unpatriotic, parents who criticize the CTU are often wrongly accused of teacher bashing. Everyone loves teachers and kids (they're like puppies), but there must be a way to talk about these complex issues without demonizing teachers, marginalizing parents, or sort-shrifting students. Lewis is right: every kid in America deserves a school like Nettelhorst—but it's going to take a village.
To sail out of the mess that is American education, everybody in the boat needs to grab an oar, or at least have the decency to sit down, and get out of the way. So —
To all the Polish-American and Italian-American civic leaders who are outraged that an expanded 180-day school year school year might mean dropping Pulaski Day and Columbus Day as school holidays: deal.
To the leaders in Springfield who think it's acceptable leave education underfunded: man-up.
To the teachers who can't leave school fast enough at three o'clock: we need you stay.
To the parents who think they can hand-off their kids and walk away: teachers and principals are begging for your help.
To the community members who believe that educating children is somebody else's problem: it's not.
To the students (remember, it's all about the kiddies): a longer school day is gonna be a bummer, suck it up.
And, to the CTU leadership threatening to strike: for heaven's sake, please don't. We pioneering families have committed ourselves to revitalizing our neighborhood schools, investing our time, talents, passion, and most importantly, our children. Do you really want to go back to fun and games of the 70's? Shirley Jones didn't wind up with her brood in suburbia by accident.
This is not crazy talk. My little school is proof positive that it can be done. Lewis, and all the parents I know, believe that every child, regardless of circumstance, deserves a great public school that delivers a first-rate education. Let's hope as the CTU negotiations move forward, all the parties can act like grown-ups, and keep kids at the forefront.
Follow Jacqueline Edelberg on Twitter: www.twitter.com/walktoschool
October 2nd, 2011 by jacqueline
Tell anyone over fifty that October fifth is International Walk to School Day, the highlight of an entire month devoted to the concept, and you'll likely get back a blank stare, furrowed brow, or outright laughter. "Nonsense," they'll tsk-tsk, "In my day, we walked ten miles, uphill, both ways, in the snow!" Tall-tales aside, as early as five or six, most of us kissed mom, grabbed a lunch box, and trotted off, for what experts considered a routine developmental milestone. I started walking to school in first grade (sparing my older brother embarrassment by lagging a half-block behind); it's no coincidence that the woman who greeted me everyday, Mrs. Davis, was the first teacher who asked me to believe in myself.
How did an entire generation of grade schoolers wind-up fat, lazy and bored, lashed to the backseat of a car? Current explanations for why urban kids no longer walk or bike to school range from increasingly distracted drivers, to inadequate pedestrian and bicycle friendly infrastructure, to drug or gang fueled violence, to the ultimate deal breakers, pedophilia and abduction.
While far too many disadvantaged neighborhoods are indeed dangerous for children (and adults), the vast majority of American cities are actually quite safe. Lenore Skenazy, fellow HuffPo-blogger and author ofFree Range Kids: How to Raise Safe, Self-Reliant Children Without Going Nuts with Worry, implores overprotective parents to get a grip. Forget the media hype: today's crime rate is actually the lowest it's been in decades. The risk of a kid getting abducted, raped or shot on the ten- or fifteen-minute walk to school in a stable neighborhood is about as likely as getting hit by a meteor.
While the possibility of getting hit by car trumps stranger danger by a mile (strangers kidnap about 115 children each year, whereas 250,000 children are injured in auto accidents), the real threat is virtually infinitesimal. Turns out, harried parents navigating the "drop-off" and "pickup" mayhem are to blame for 50 percent of all car accidents involving children near schools. Arguably, fewer parents driving kids would translate into fewer parents hitting kids. Of course, that would mean that more parents would need to teach their kids how to unplug, zone-in and obey traffic signals, hardly an unreasonable lesson. And, with all that extra oxygen around schools, our munchkins would stand a much better chance of staying alert.
If we could simply overcome our irrational fears, children would scamper down the street in droves, just like good ol' days, right? The sad truth is that even the fittest, bravest or most conscientious kids (empowered by environmentally savvy, risk-tolerant parents) cannot realistically walk to school if they don't attend the school in their neighborhood.
Here in Chicago, like most cities, middle-class families overwhelmingly reject their neighborhood school in favor of reputable magnet schools outside their catchment zone. However, the most desirable magnets admit students by lottery or testing, and demand far outstrips supply. Consequently, the city's entire five-year-old population is locked in a frenzied scramble for a few hundred spots, many of which are already gobbled up by sibling preferences. Just how fierce is the competition? It's statistically harder to get your kindergartener into one of Chicago's top public magnet schools than it is to get your high school senior into Harvard. For the lucky ones, hours each day locked in rush-hour traffic seems like a small price to pay for a golden ticket.
Frustrated by the totally insane public/private school gauntlet, my girlfriend and I ventured insideNettelhorst, our neighborhood's underutilized and struggling public elementary school to see just how terrible the place was. The new principal, Susan Kurland, asked what it would take for us to enroll our children. Stunned by her candor, we went home, stuck our toddlers in front of Dora the Explorer, cracked open a bottle of wine, and started to dream big. We returned the next day armed with an extensive wish list; Susan read it, and said "Well, let's get started, girls! It's going to be a busy year…"
Together, we galvanized neighborhood parents and then organized an entire community to take a leap of faith, transforming a challenged urban school into one of Chicago's best, virtually overnight. Take a virtual tour; promise, it'll knock your socks off.
My group of parent reformers didn't wait for some fancy, new, educational initiative to fall from the sky. Here's the secret: you already have the power to create change in your community from the ground up. Yes, fixing what's broken requires work, and a good blueprint certainly helps, but our crowd wasn't a bunch of nuclear physicists building a reactor. This is elementary school, people.
So, this October, by all means, lobby your representatives for more sidewalks, stop signs, crossing guards, and bicycle lanes. And on the fifth, ditch the car, inflate balloons, paint signs, and make the momentous trek to school, with a "walking school bus" escorted by police or parent volunteers if that's what it takes. Better still, gather up some friends, march right into your neighborhood school, and ask the principal what you can do to help.
Public schools belong to the public, and that's all of us. Education reform will take leadership from the top, but ultimately it's our collective responsibility to wrap our arms around our schools, and make them the heart of our communities. If we can't do that, no amount of get-off-your-butt/get-on-your-sneakers cheerleading will make much of a dent. If we hope to reform education, it's only going to happen neighborhood by neighborhood, block by block, one school at a time.
March 22nd, 2011 by jacqueline
Also printed in the Huffington Post
When the real Rahm Emanuel offered the fake Rahm Emanuel $5,000 to reveal himself, it was anybody's guess who the doppelganger was, or which charity would get the cash.
Thanks to the magic of Colbert, the whole country now knows that Columbia College journalism professor Dan Sinker is the creator of the infamous fake Twitter account, but few know that he donated his reward to Young Chicago Authors, the subject of the powerful new documentary, Louder Than a Bomb (LTAB).
Before the film airs on the Oprah Winfrey Network, my public school, Nettelhorst, will be hosting a public screening, followed by discussion with film's co-directors, Greg Jacobs and Jon Siskel (nephew of Gene).
As life, politics and art are forever intertwined in my little, big town, here's the skinny:
LTAB, presented by Young Chicago Authors, is the country's largest teen poetry slam.
It's fitting that professor (and Nettelhorst grandfather) Bill Ayers has judged the festival for over a decade now, and the performances reflect all the fiery passion and social activism for which he is known.
"LTAB is a place where the dreams , aspirations, knowledge, and skills of youth are sensible starting points for learning," Ayres says, "where young people are treated as valuable and where they can find ways to become people of values, where children can read critically, speak openly, and think freely."
In the spirit of this mission, LTAB manages to bring Chicago's youth together across all racial and socioeconomic lines. "For three minutes at a time the students speak about their lives," said LTAB artistic director and co-founder Kevin Coval. "For the other eighty-seven minutes, they are listening to the lives and stories and dreams of others, kids that don't look like them and come from different neighborhoods. In listening, the city shrinks."
As the only elementary school represented in the LTAB program, Nettelhorst kids are lucky to be a part of such a diverse, collaborative, environment.
In their integrated Drama and Language Arts unit, our sixth and seventh graders have spent the last few weeks presenting, critiquing, and rewriting pieces inspired by Nikki Grimes' Bronx Masquerade.
Superstar drama teacher Chad Kimmel insists the LTAB experience has inspired and challenged his students to "find their own voice while learning to listen to others, a skill that will serve them well as adults." My kids, Maya and Zack, age 12 and 10, both think Kimmel's class rocks.
Rooting the poetry slam at the school level is uniquely Chicago. In other cities, kids begin as solo competitors, and then, winners are farmed into competitive teams. Here in Chicago, however, the program fosters a collaborative environment at the inception, much like a sports team, where kids feel safe to express their strengths and vulnerabilities, all under the watchful eye of caring adults.
While competition may seem to be the program's primary goal, it's really a bait and switch. Over the three weeks, the competition melts away, and what remains is the core "team" lesson incubated from the beginning.
That powerful sense of community, in turn, radically impacts the entire school culture. "While Chicago's approach may seem haphazard," Jacobs insists, "we think it should be everywhere. LTAB is the way the world is — and the way it should be — and that is transformative."
The one-two punch of LTAB and @MayorEmanuel's twitter buzz may prove enough of a catalyst to spark transformative change beyond Chicago. Siskel and Jacob's are on a mission to get their film in every school in America, and then channel the resulting enthusiasm into an online writing and performance hub for students, teachers, and parents.
In much the same way that Dan Savage's It Gets Better Project became an accessible, supportive community, the directors imagine a forum where kids have the freedom to express themselves in boundary-breaking ways.
At every screening — and the film has reached over 5,000 students so far — enthusiastic kids inevitably ask, "Why don't we have this?" The directors hope that someday soon their answer will be "Why, you already do!" If you have ideas about how to support their larger dream, shoot them an email.
Despite all the movie hype, Young Chicago Authors is a super-strapped not-for-profit, and money helps. Since Sinker revealed himself, donors have logged on to causes.com to match Rahm's gift dollar-for-dollar, and two local radio hosts kicked in an additional $1,000 each.
The grand total's up to $12,000 now, which is great, but not nearly enough to keep the lights on. Maybe you'd like to help, too, but are feeling a bit hesitant?
As the fake Rahm is deep in a time vortex, here's a little twitter nudge from the real Dan Sinker:
"Every dollar that goes to Young Chicago Authors changes lives. Donate if you can."
Need more? Here's a nudge from the real Rahm Emanuel: "I want every child in Chicago, if they have academic interests, athletic interests or artistic interests, to have an adult supervised activity where their own self-esteem can find a voice. Nettelhorst has taken the whole idea turning a neighborhood school it into a community center, and our city is richer for it. After-school programs like Louder Than a Bomb make Chicago unique. And it's a great, great movie.
Still more? This nudge from brilliant poet and activist Kevin Coval, cuz beyond my City of "Big Shoulders," there's a whole country to beautify:

The Meaning of Children
Chicago/America, your children are born,
To travel underground, and supposed to get high
brow bootleg mega-mixes on old Maxwell St.
Sundays; white socks, watermelon and churros.
we are born to over stand and glide high thru tree lined streets,
born to inter-sect, cross-pollinate and miscegenate,
blur all fences and neighborhood lines ever
erected, we
concentrate
in attention delirium cuz there is a city –
country to beautify -
we are born
to make the hole holy, throw-up and fill in
the widening gap between those who have
and those who have to rent, born to master-
piece the backside of Picasso's cold blooded bird eyes,
born to scratch-bomb the hidden underbelly of CTA
buses and under overpasses cut holes holy in chained –
links where beds could be made and we are born to wreck
freight train mural names emblazoned in the eye's night
of I-94 where Metra tracks chug suburban sprawl,
we Chicago /america, the children of reagan/Daley, know all
the heroes are broken like our fathers
but who said you had to be
perfect, let's start with honest:
everything we love is stolen,
every melody and word and brush stroke borrowed
or muscled or appropriated from what came before.
let's be honest about what came before:
DuSable should be a college
at the mouth of the river just east on the north bank
paid for by Chase and JP Morgan and all slave made
institutions, bring on the reparations Sekou Sundiata
echoes in the departed air where his mouth once moved.
let's be honest Chicago/america
you don't understand us
you are kinda boring and won't listen
when we want to play you
our record since 1973
but now that that record
that that record that that
record sells
Cheeseburgers and hondas
and that that record sells
more than imported beatles
i'll say this
i dig Bach
but do you know who Jesse De La Pena is.
i read Elliot
but do you know MF Doom is Zev Luv X
or that his brother is dead.
i wanted to but was too broke to see Baryshnikov
but do you know Wakka is the illest
b-boy on the planet and lives in a basement
at Noble and Chicago where he cleans
the bodies and rooms of old people.
Chicago/America
we your children are born to inter-sect,
cross-pollinate and miscegenate
blur all neighborhood fences ever
erected, we
concentrate
in attention delirium
cuz there is a city –
country to beautify.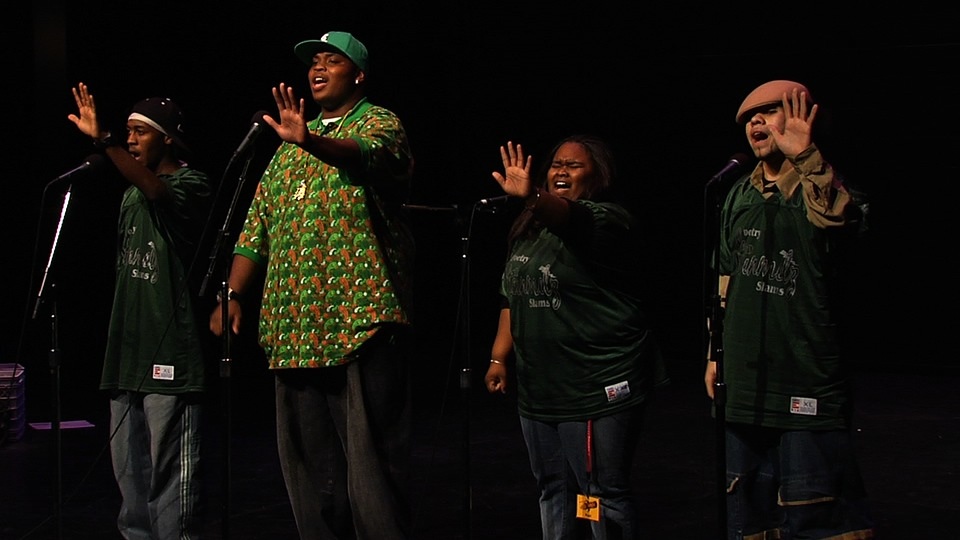 photo courtesy of Siskel/Jacobs Productions