March 22nd, 2011 by jacqueline
Also printed in the Huffington Post
When the real Rahm Emanuel offered the fake Rahm Emanuel $5,000 to reveal himself, it was anybody's guess who the doppelganger was, or which charity would get the cash.
Thanks to the magic of Colbert, the whole country now knows that Columbia College journalism professor Dan Sinker is the creator of the infamous fake Twitter account, but few know that he donated his reward to Young Chicago Authors, the subject of the powerful new documentary, Louder Than a Bomb (LTAB).
Before the film airs on the Oprah Winfrey Network, my public school, Nettelhorst, will be hosting a public screening, followed by discussion with film's co-directors, Greg Jacobs and Jon Siskel (nephew of Gene).
As life, politics and art are forever intertwined in my little, big town, here's the skinny:
LTAB, presented by Young Chicago Authors, is the country's largest teen poetry slam.
It's fitting that professor (and Nettelhorst grandfather) Bill Ayers has judged the festival for over a decade now, and the performances reflect all the fiery passion and social activism for which he is known.
"LTAB is a place where the dreams , aspirations, knowledge, and skills of youth are sensible starting points for learning," Ayres says, "where young people are treated as valuable and where they can find ways to become people of values, where children can read critically, speak openly, and think freely."
In the spirit of this mission, LTAB manages to bring Chicago's youth together across all racial and socioeconomic lines. "For three minutes at a time the students speak about their lives," said LTAB artistic director and co-founder Kevin Coval. "For the other eighty-seven minutes, they are listening to the lives and stories and dreams of others, kids that don't look like them and come from different neighborhoods. In listening, the city shrinks."
As the only elementary school represented in the LTAB program, Nettelhorst kids are lucky to be a part of such a diverse, collaborative, environment.
In their integrated Drama and Language Arts unit, our sixth and seventh graders have spent the last few weeks presenting, critiquing, and rewriting pieces inspired by Nikki Grimes' Bronx Masquerade.
Superstar drama teacher Chad Kimmel insists the LTAB experience has inspired and challenged his students to "find their own voice while learning to listen to others, a skill that will serve them well as adults." My kids, Maya and Zack, age 12 and 10, both think Kimmel's class rocks.
Rooting the poetry slam at the school level is uniquely Chicago. In other cities, kids begin as solo competitors, and then, winners are farmed into competitive teams. Here in Chicago, however, the program fosters a collaborative environment at the inception, much like a sports team, where kids feel safe to express their strengths and vulnerabilities, all under the watchful eye of caring adults.
While competition may seem to be the program's primary goal, it's really a bait and switch. Over the three weeks, the competition melts away, and what remains is the core "team" lesson incubated from the beginning.
That powerful sense of community, in turn, radically impacts the entire school culture. "While Chicago's approach may seem haphazard," Jacobs insists, "we think it should be everywhere. LTAB is the way the world is — and the way it should be — and that is transformative."
The one-two punch of LTAB and @MayorEmanuel's twitter buzz may prove enough of a catalyst to spark transformative change beyond Chicago. Siskel and Jacob's are on a mission to get their film in every school in America, and then channel the resulting enthusiasm into an online writing and performance hub for students, teachers, and parents.
In much the same way that Dan Savage's It Gets Better Project became an accessible, supportive community, the directors imagine a forum where kids have the freedom to express themselves in boundary-breaking ways.
At every screening — and the film has reached over 5,000 students so far — enthusiastic kids inevitably ask, "Why don't we have this?" The directors hope that someday soon their answer will be "Why, you already do!" If you have ideas about how to support their larger dream, shoot them an email.
Despite all the movie hype, Young Chicago Authors is a super-strapped not-for-profit, and money helps. Since Sinker revealed himself, donors have logged on to causes.com to match Rahm's gift dollar-for-dollar, and two local radio hosts kicked in an additional $1,000 each.
The grand total's up to $12,000 now, which is great, but not nearly enough to keep the lights on. Maybe you'd like to help, too, but are feeling a bit hesitant?
As the fake Rahm is deep in a time vortex, here's a little twitter nudge from the real Dan Sinker:
"Every dollar that goes to Young Chicago Authors changes lives. Donate if you can."
Need more? Here's a nudge from the real Rahm Emanuel: "I want every child in Chicago, if they have academic interests, athletic interests or artistic interests, to have an adult supervised activity where their own self-esteem can find a voice. Nettelhorst has taken the whole idea turning a neighborhood school it into a community center, and our city is richer for it. After-school programs like Louder Than a Bomb make Chicago unique. And it's a great, great movie.
Still more? This nudge from brilliant poet and activist Kevin Coval, cuz beyond my City of "Big Shoulders," there's a whole country to beautify:

The Meaning of Children
Chicago/America, your children are born,
To travel underground, and supposed to get high
brow bootleg mega-mixes on old Maxwell St.
Sundays; white socks, watermelon and churros.
we are born to over stand and glide high thru tree lined streets,
born to inter-sect, cross-pollinate and miscegenate,
blur all fences and neighborhood lines ever
erected, we
concentrate
in attention delirium cuz there is a city –
country to beautify –
we are born
to make the hole holy, throw-up and fill in
the widening gap between those who have
and those who have to rent, born to master-
piece the backside of Picasso's cold blooded bird eyes,
born to scratch-bomb the hidden underbelly of CTA
buses and under overpasses cut holes holy in chained –
links where beds could be made and we are born to wreck
freight train mural names emblazoned in the eye's night
of I-94 where Metra tracks chug suburban sprawl,
we Chicago /america, the children of reagan/Daley, know all
the heroes are broken like our fathers
but who said you had to be
perfect, let's start with honest:
everything we love is stolen,
every melody and word and brush stroke borrowed
or muscled or appropriated from what came before.
let's be honest about what came before:
DuSable should be a college
at the mouth of the river just east on the north bank
paid for by Chase and JP Morgan and all slave made
institutions, bring on the reparations Sekou Sundiata
echoes in the departed air where his mouth once moved.
let's be honest Chicago/america
you don't understand us
you are kinda boring and won't listen
when we want to play you
our record since 1973
but now that that record
that that record that that
record sells
Cheeseburgers and hondas
and that that record sells
more than imported beatles
i'll say this
i dig Bach
but do you know who Jesse De La Pena is.
i read Elliot
but do you know MF Doom is Zev Luv X
or that his brother is dead.
i wanted to but was too broke to see Baryshnikov
but do you know Wakka is the illest
b-boy on the planet and lives in a basement
at Noble and Chicago where he cleans
the bodies and rooms of old people.
Chicago/America
we your children are born to inter-sect,
cross-pollinate and miscegenate
blur all neighborhood fences ever
erected, we
concentrate
in attention delirium
cuz there is a city –
country to beautify.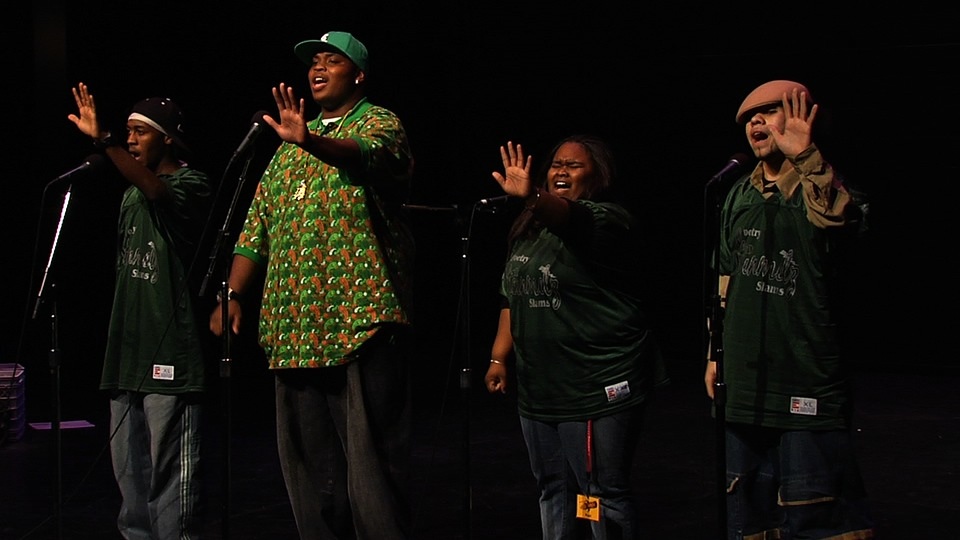 photo courtesy of Siskel/Jacobs Productions
Leave a Reply