October 25th, 2012 by jacqueline
Also printed in the Huffington Post
Like many parents who read Amy Chua's Battle Hymn of the Tiger Mother, I flogged myself for raising two perfectly perfect child generalists. I've simply lacked the discipline or will to raise a dancer like Baryshnikov, a cellist like Yo Yo Ma, a tennis player like Venus Williams, or an engineer like… Um. Um.
The fact that I can't name a single rock star engineer didn't seem like a big deal until the second debate when President Obama argued that our country's economic salvation hinges on our kids becoming world-class engineers. We all know that our students need to do better at math and science to be competitive in the new world economy, and sure, we also want them to be crackerjack American innovators, but what are we really doing to motivate them?
If the Tiger Mom offers one approach to inspiring greatness, Chicago's dynamic 'maker' community offers an alternative: meet the Kangaroo Dad. By day, you can find these super dads holed-up in local incubators, meet-ups, or the two-day, invitation-only, groovy gathering of the Midwest's tech community called ORD Camp. In cyberspace and real space, these Kangaroo Dads are buzzing over how they can help build motivation through invention, entrepreneurialism and practical application.
Take Chicago inventor Joe Born, who watched his 10-year-old daughter, Lily, struggle with math homework night after night. One tearful evening, Joe decided to switch things up, and traded the weekend's assigned craft project for a home-baked 'invention' project. "I had two goals," Joe explains. "The first was just to focus some energy on something I knew Lily was good at, instead of just on the things she struggles with. The second was to teach her product development in the hope it would show her the importance of math and science."
Joe encouraged Lily to answer a real-world problem. Lily's grandfather has Parkinson's disease and often knocks over his coffee at breakfast. Lily played with a moldable plastic from Inventables Joe had leftover from ORD Camp until she landed on a unique stackable, three-legged design that's virtually spill-proof. With the help of her dad, Lily has spent almost a year bringing her "Kangaroo Cup" to market, even traveling all the way to her native country of China to have samples made.
"The Monday after launch, she went to school with a new found confidence that was obvious to everyone" said her dad, and with $10,000 in crowd-sourced pre-orders on Kickstarter and Indiegogo, her design is already looking like a success. Fingers crossed that Lily is lucky enough to graduate with an engineering degree debt-free.
"Lily's amazing story perfectly captures the spirit of what we want every kid to believe and achieve," says Kangaroo Dad Ted Ganchiff. Like Joe, Ted hoped to buttress his 10-year-old son's Alex's public school science program at Nettelhorst, the little elementary school my two kids also attend. After supervising the school's science lab renovation with funds from U.S. Cellular's Calling All Communities Challenge, Ted hit the pavement and forged partnerships with Chicago area entrepreneurs and universities for a pilot program, codenamed SEE (STEM and Entrepreneurism Exchange).
Last year, Nettelhorst fourth grade students teamed with university and professional mentors to conceive, rapid prototype and manufacture their own original products. At the end of the hands-on pilot, 83 percent of students said that they had a greater desire to be an engineer someday, and 78 percent said they knew "a lot" about developing products after the pilot, versus just 22 percent before. "With right kind of mentoring and guidance," Ted asserts, "our kids come to understand they have the power to become entrepreneurs and innovators, not just later in life, but right now, right here in Chicago."
If the Tiger Mom insists that parental drive motivates children to greatness, the Kangaroo Dad focuses less on blind discipline, and more on identifying his child's unique skills and spring-boarding from there, bouncing happily to wherever the spirit of innovation leads. And still more, every kid can succeed along the way.
As we navigate this new interconnected and inter-dependent age — a time which values invention, collaboration and dedication more than soul-crushing technical skill — perhaps it's time to rethink the uber-parent. Yup, Kangaroo Dads. They're the future. Hippity-hop.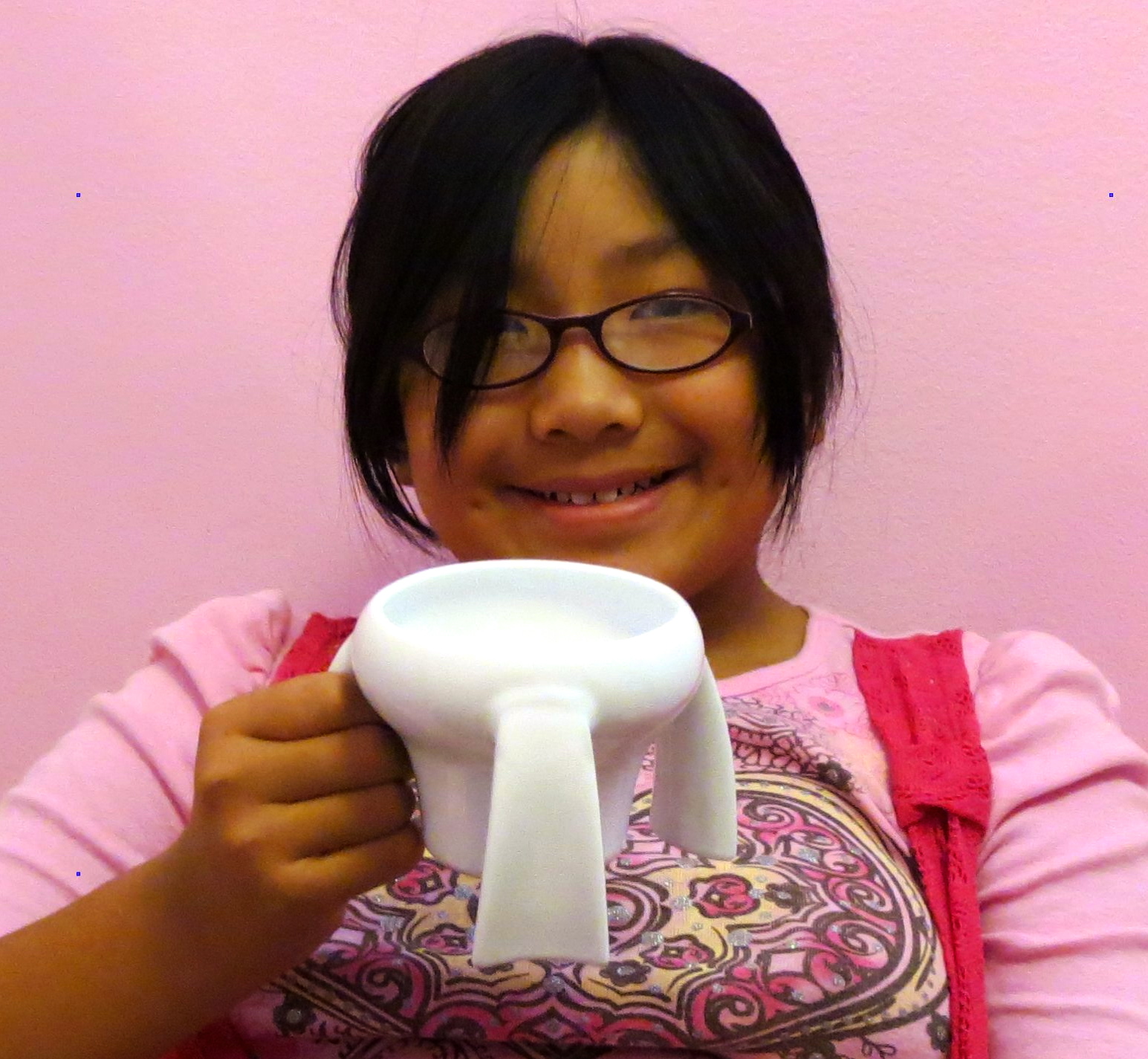 Ten-year-old inventor Lily Born shows off her Kangaroo Cup
Leave a Reply