I imagine you don't get too many letters from pre-kindergarteners who haven't held a pencil or sung the alphabet or haven't heard a bedtime story. On behalf of the five million at-risk kids under five years old, here's a giant Christmas wish: Please save Head Start. Once a disadvantaged child starts behind, it's almost impossible to catch up.
Head Start is on the chopping block because Congress failed to come to an agreement on the federal budget as part of last year's national debt ceiling negotiations. Consequently, America's speeding toward a fiscal cliff, the dramatic combination of expiring tax cuts and looming spending cuts set to take place in January.
In spite of the fact that every dollar invested in quality early education delivers a 7 to 10 percent return on investment, by the time most of us have hauled-out our Christmas trees, some 100,000 current Head Start students from across the country (almost 4,000 in Illinois alone) might also get kicked to the curb.
"Without a quality education beginning at birth, today's children won't be equipped to take on tomorrow's challenges," said Diana Rauner, president of the Ounce of Prevention Fund, a Chicago-based early education advocacy group. "If we don't invest in young children today, we'll be having these same conversations in twenty years when the children at current risk for being cut off from Head Start arrive at adulthood unprepared to join the workforce."
The statistics are sobering. Disadvantaged children who don't attend quality early education programs are 50 percent more likely to be placed in special education and 25 percent more likely to drop out of school. They are 60 percent more likely to never attend college, 70 percent more likely to be arrested for a violent crime and 40 percent more likely to become a teen parent. If we fail to offer early learning programs that will help kids achieve in school and become productive, employable citizens, we're only going to get stuck with a much larger bill down the road for special education, unemployment and incarceration.
"Early childhood education programs are a critical piece of this puzzle and we are committed to directly supporting them," said Beth Swanson, Chicago Mayor Rahm Emanuel's Deputy for Education. "We have clear evidence that high-quality early education programs play a critical role in the future success of a child, and while some cities and states across the country are being forced to cut back, placing future generations at a disadvantage, Chicago is choosing to invest in early learning."
In my hometown, the mayor pledged a three-year investment in early education, starting with $10 million for this upcoming school year, drawn straight from the City budget. In real terms, 5,000 more children will have access to high-quality education, and 6,000 more will have access to essential wrap-around services, including parent engagement programs, dental and nursing care, and so forth. Chicago is taking a stand, but cities and states cannot sustain essential programs like Head Start alone. Federal support is critical.
And so, Santa, this holiday season, I'm turning to you for help. As times are tough everywhere, I suspect there's been some belt-tightening up there in the North Pole. In case you need to dispatch some sprightly elf to Washington D.C. to free-up funds, here are some more letters from concerned citizens your elf can give to legislators (add your voice here; it will take two seconds, promise). Fingers crossed that Dasher, Dancer, Prancer and Vixen can sail safely right over that nasty fiscal cliff.
The days are tick-tick-ticking to New Years, Santa. Millions of very good little girls and boys are depending on you.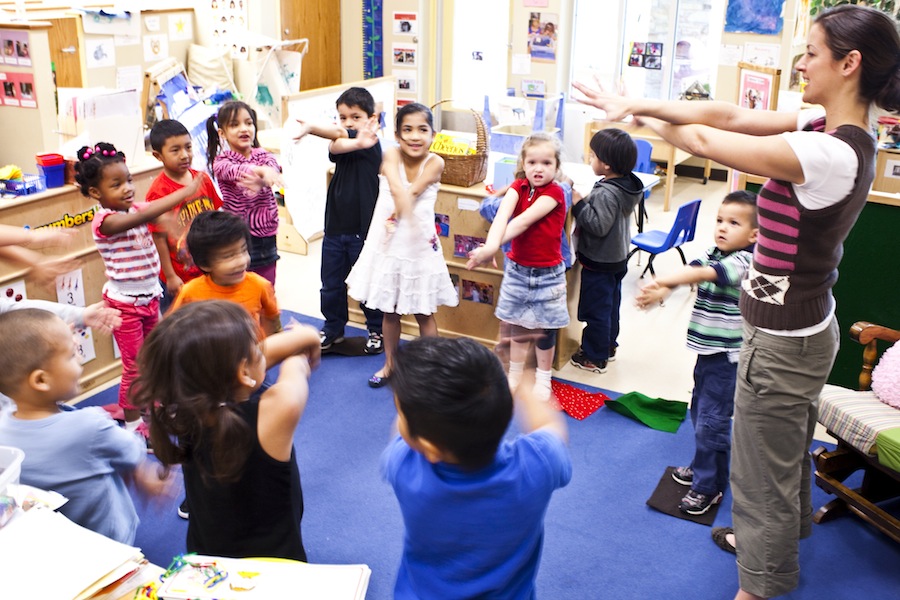 Preschoolers with their teacher during a Head Start classroom's circle time. Photo courtesy of the Ounce of Prevention Fund.