September 16th, 2012 by jacqueline
Also printed in the Huffington Post
Dad: Okay, kiddo, bedtime.
Daughter: But Daddy, I wanna stay up and watch TV.
Dad: Sorry, sweetheart, it's a school night.
Daughter: Um…strike.
Dad: Ooooooooh right—Let's watch Conan!
This was not just any Second City show. Joining main-stage actors for a spirted game of freeze tag were the company's administrative assistants, instructors, bartenders, and scores of CPS students improvising their little hearts out.
With all the hullabaloo, it's easy to overlook one of the most striking features of last week's strike: In my stormy, husky, brawling City of Big Shoulders, community members, faith leaders, parents, and neighbors came together to support our kids, the only ones truly shafted by this grown-up mess. From park districts to libraries to not-for-profits to private homes — almost every kid in this increasingly dangerous city had a safe place to ride out the strike. And because the near-bankrupt Chicago Transit Authority offered free rides to every CPS student, some 400,000 kids could even get there.
Thanks to the generosity of my fine city, my two kids hopped the #151 bus to Old Town (by themselves!) where they played improv games and studied sketch comedy at the Second City all day long. For free.
Crazy, huh? On Tuesday, Second City CEO Andrew Alexander walked into a staff meeting and declared: "All hands on deck — We need to do this!" Less than 24 hours later, Andrew's team had assembled scores of instructors for an impromptu CTU Strike Camp. Overhead from one lucky 11-year old: "Wow. This is the best strike ever!"
So, while politicians and pundits debate the real-life implications of Click Clack Moo Chicago style, here are the seven Improv principles some 50-plus CPS students learned at the Second City Strike Camp, lessons that will serve them well, both on stage and off (ahem, Rahm…Karen…you might want to grab a #2 pencil):
Yes, and… Saying 'no' is verboten; obstructionists are scum. A yes-man may boost your confidence, but he doesn't add much. You must move the scene forward.
Teamwork. As any Chicagoans who has helped a neighbor shovel-out his car after a blizzard can attest: We are all in it together. No grandstanding.
Honesty. Be true to your character. Own it. Midwestern integrity is a value.
Confidence. Don't waste time second-guessing. Sometimes your choices won't be popular — the hard ones seldom are.
Empathy. To feel for your teammates, you must truly listen — and that's hard (harder still if you don't make eye contact).
No Judgment. No bulling, no mocking, no exclusion, no cliques. Be respectful.
Laughter. Humorless people are exhausting. Have fun. Be Generous. Laugh hard.
In what has been a gut-wrenching experience for everyone, for all of it, I love, love, love my city. Fingers crossed this strikes ends soon. From the great Mark Twain: "Chicago — a city where they are always rubbing a lamp, and fetching up the genii, and contriving and achieving new impossibilities." Monday is a new day.
No need to wait for next year's inevitable strike over teacher pensions; The Second City offers exceptional programming for children year-round, including extended day camps during school breaks.
September 4th, 2012 by jacqueline
Also printed in the Huffington Post
Last week, on the very same morning Karen Lewis announced a ten-day strike notice, Abby at Crosstown Tree Service texted that a truckload of woodchips was speeding our way. Over the past four years, parents have been working like gangbusters to transform a narrow stretch along the side of my neighborhood public elementary school into an Outdoor Classroom, all on a budget of nothing. With ourribbon-cutting set for eight days away, Crosstown's donation was like manna from heaven. In the blink of an eye, a football field's worth of shredded trees almost completely blocked foot traffic on Aldine street.
The following day, while CPS and CTU negotiators locked horns in some airless room downtown, the East Lakeview school community dealt with the woodchip crisis head-on. Facebook pleas and old-fashioned carnival barking drummed-up scores of volunteers who gathered the school's random shovels, rakes and buckets and began the Sisyphean task of transferring woodchips from the ginormous pile, up and over the rusted 100 year-old wrought iron fence, onto the winding garden paths. Roughly seven sweaty hours later, the thankless job was done.
Had Fox News reported on the event, they might have noticed the absence of teachers, and held it up as yet one more example of their professional sloth. Of course, all our teachers were inside the building, diligently setting up their classrooms in preparation for the first day of school. No parent shoveling real or metaphorical woodchips in service to my school believes that our fine teachers are to blame for the crisis effecting American education.
And yet, I'm not the only parent who believes that a fair share of the fault lies with the CTU for it's unyielding defense of a broken system. Wendy Katten, the voice of Chicago's Raise Your Hand Coalition, is a steadfast Lewis supporter, but worries that the CTU leadership may have oversold. Many parents have come to believe that a strike could address everything from "class size, increasing positions for arts, seeking fair compensation that doesn't include merit pay, ensuring teacher recall, to staffing a full-time nurse, social worker, psychologist, etc. in every school, obtaining air-conditioning for all, to shutting down Astroturf groups and freezing the expansion of the privatization of our schools." And, polar bears and penguins and global warming, too.
Back in a June blog, I argued that collective bargaining addressed precious few of these issues, and begged stakeholders to cool their jets. The blowback for joining the "Against Us" camp in such a public forum was as fierce as if I'd drawn and quartered the schoolchildren in the front playground. Some highly credentialed and beloved teachers asked that I skip their classrooms during the monthly school tour (a tour that I've led for almost a decade). Some parents stopped short of canceling playdates, but made it clear that I was no longer welcome to stay for coffee. Still others would have applauded my centrist position had I not felt the need to be so snarky. If all politics is local, what happens to your own kid is about as local as it gets. With such dry tinder, I should've seen it coming.
Now, my skin is not particularly thick (a real problem for a blogger), but here's the truth: many of my fellow parents share my profound respect for teachers, yet still believe that there's plenty of blame to go around. Many also share my respect for unions and will not cross a picket line, come what may. However, a great many working parents, predominately those who are minority and disadvantaged, do not have the luxury to stand on principle. In this economy, I sure wouldn't want to be the one to tell a mom to keep her kid home and risk losing her job, especially when there's little chance that this dogfight will bring about significant change.
Unless, of course, the crazy dream I had last night comes true: Rahm, after a long chat with Quaxelrod at the Democratic convention, returns to Chicago to find that Lewis has actually — gasp — pulled the trigger, turning some 400,000 kids onto Chicago's increasingly dangerous streets. In a blinding rage, Rahm channels his inner Reagan, fires every single teacher, and carves CPS into charter pie. As a stopgap measure, suburban scabs and striking NFL referees fill teacher positions while the jobless reapply. The whole process would likely take a few weeks to sort out, time easily recovered by eliminating all the CPS holidays and professional development days, which were on the chopping block anyways.
I'm jolted awake by the mayor's first 7:00 am tweet from the vortex: "Pack your lunchboxes, little #$&*@s, time to go to school!" In 2016, Rahm runs for president as a fiscally conservative Democrat, best known for extending the Chicago school day and breaking the CTU (and wins).
The more likely scenario: teachers will go on strike on the 10th, kids will get bored, adults will sort-out adult problems, Springfield will be Springfield, Illinois will hold its rank as second-to-last in state education funding, CPS will slog-on under crushing bureaucracy and a $1.1 billion plus long-term debt, and the status quo will more or less continue.
On the bright side, Nettelhorst's Outdoor Classroom officially opens on the 8th, two days before the union's school bell rings. As it's technically not in-school proper, our students will have a safe, happy place to ride out a strike with their classmates without choosing sides. When the dust settles, and it will, all the players in this game will say that this conflict has taught our kids valuable lessons, although it's difficult to gauge exactly what those lessons will be from this side of history.
Like most of my mommy pals, I've spent my Labor Day weekend not celebrating labor, but buying school supplies and shelf-stable lunch fare. Strike or no strike, the kids frolicking about our new garden will be soaking up the last rays of summer sun and getting back to basics. I hope these five messages from our Outdoor Classroom will be as crisp and clear as the September air:
1) Reduce, Reuse, and Recycle.
2) Dirt under your fingernails feels good.
3) Sustainability is critical to the health of us all.
4) Growing things need lots and lots of water, air, nutrients and sunshine to thrive.
5) Work Hard. Play Nice. Share.
August 26th, 2012 by jacqueline
Come celebrate the opening of The Nettelhorst Outdoor Classroom at the Lakeview East Festival of the Arts on Saturday, September 8th at 10:30 am. Find our magical oasis at 3252 N. Broadway; follow the green sidewalk down Aldine.
"The Nettlehorst School has taken an important leadership role in a profoundly needed initiative to connect young children with nature, setting a wonderful example for education centers across the country," says Susie Wirth, Nature Explore outreach director for the Arbor Day Foundation.
The Nettelhorst Outdoor Classroom—open to students, teachers, parents, and community members—features musical instruments made of recycled materials, garden and sculptural elements, and natural materials for building, play and artistic creation.
Our project is the culmination of a four-year labor of love. The Nettelhorst Community Group is deeply indebted to our community.
Our supporters
Our Artists
Our Neighborhood Heroes
Tom Tunney

Sara Feigenholtz

John Cullerton

Michael Quigley

Rahm Emanuel
Please help support ongoing education programming with a tax-exempt donation at nettelhorst.org/dreams. Our school's success is proof-positive that it takes a village, and our village rocks.
In case of rain, we'll have a do-over the following day at 10:30 am.


June 10th, 2012 by jacqueline
Also printed in the Huffington Post
Let's be clear: I love, love, l-o-v-e teachers. The teachers at my kids' neighborhood elementary school,Nettelhost, individually, and collectively, represent everything that's right with public education. So much so, I'd put their education on par with any private school in this country — our teachers are that good.
I also respect unions. During the teacher strikes of the 1970s, my mom, who once taught seventh grade at Brooklyn's Ditmas Junior High, kept us home for weeks in solidarity (backgammon, anyone?). If Chicago's teachers do strike, rest assured, my kids and I will not cross a picket line.
Because I love teachers and respect unions, when NBC Chicago reported that more than 90 percent of teachers had given the OK to strike, my heart sank. While this vote doesn't guarantee a walk out, Chicago Teachers Union president Karen Lewis now has a green light to call for one at any point after August 17, the first day for a lawful strike. When Illinois passed the Education Reform Legislation(SB7), a law crafted by a diverse group of education stakeholders, this is exactly the volatile situation everyone hoped to avoid.
The new legislation sought to make strikes a true last resort by requiring transparency and an independent fact-finding process (37 states already prohibit teachers from striking). Back in April, both camps agreed to abide by a three-member fact-finding panel that includes Chicago Public Schools representative Joseph Moriarty, CTU Vice President Jesse Sharkey, and arbitrator Edwin Benn serving as the "neutral chairperson."
The law also dictates that 75 percent of all union members needed to authorize a strike, rather than a majority of vote-takers as previously required. If Lewis had waited for Benn to conclude his report on July 16, roughly two-thirds of the district's teachers would still be away enjoying their three month summer holiday, and 1,500 veteran teachers would have already retired (who would not be impacted by their vote). However, if she held-off until August 27, the week before school starts, Benn's compromise would have been on the table, and all 25,500 CTU members could have made an informed decision.
Although teachers are required to come back early for professional development and to set-up their classrooms, the sad fact is that many show up the day before school starts. Plus, 2,000 new teachers (of questionable allegiance) would have joined the ranks. Regardless of the margins, rested teachers are happy teachers. If Lewis hoped to reach the mandatory 75 percent threshold, waiting until the end of the summer was just too big a gamble.
With so much at stake, it should come as no surprise why Lewis also rejected an independent auditor to oversee the strike count in favor of ministers from ARISE Chicago, a workers-rights advocacy firm. "If I were in Karen Lewis' shoes," CPS CEO Jean-Claude Brizard said, "I would want to assure the masses this is done with integrity, that this could be defended in the event there is a call of voter fraud." In the city of Vote Early, Vote Often, government watchdogs, like Andy Shaw, have voiced a communal wince, but at this point, the train has pretty much left the station.
To reach the power of "yes," Lewis, who's polemical in even the calmest of circumstances, has whipped Chicago's educators into a full-on frenzy. We can thank Governor Walker's anti-union teacher-bashing rhetoric for laying the groundwork for the red-shirted mob now marching with pitchforks against the House of Brizard, where the lights are barely flickering under a $700 million deficit. Lewis' uncanny ability to cast Brizard — a man who was a teacher, whose wife is a teacher, and both parents were teachers — as the city's anti-teacher has been quite a hat trick.
In the Springeresque circus that's come to town, we've seen Lewis flanked by rabid parent Matt Farmer and perennial parade-marshal Rev. Jesse Jackson (extra ironic since disadvantaged minority children will be the ones most impacted by a strike). And whoa! Hollywood? Even Matt Damon has piled-on. By the time the bouncers and 405,000 bored kids rush the stage, Wisconsin's pizza and beer slug-fest will look tame. This is exactly the kind of polarizing freak show that SB7 sought to avoid.
Many civic leaders, including Rev. Michael Pfleger, have implored teachers not to strike for the sake of the kiddies. How adults model conflict resolution sends a powerful message, and we don't want kids to overturn the table, hurl ad hominems, pick up their toys, and go home. Agreed, but we also hope to teach our kids to be courageous, self-respecting and tenacious. Teachers have a right to get paid an honest wage for an honest day's work. Surely we don't want to raise marshmallows, right?
The real danger here is not the message to kids, but the message to adults: Lewis' move to hijack the process in the name of garnering more leverage — which is her right — has likely oversold what the union can deliver. Enough teachers have given Facebook thumbs-up to high school teacher Eric Skalinder's open letter to Brizard that it's probably a good barometer of current sentiment.
Trouble is, Skalinder's litany of grievances could fill a menu at the Cheesecake Factory. Like everyone in the capitalist equation who endures certain things in exchange for a paycheck, I share his pain. I frequently do not "feel respected or supported" when my computer takes too long to boot up, or my online storage runs out, or my office gets too hot. I, too, get especially ticked-off when smart people don't pay me enough mind or stupid people make decisions for me.
It would be swell if Glenda the Good Witch could sweep in and solve all of Skalinder's issues, but precious few of them are subject to collective bargaining. SB7 limits the discussion to pay and benefits. Nothing else is on the table, not because Brizard is a bully who hates teachers, but because he's following the law — a law that both CPS and the CTU helped craft.
So, as we gallop-off for a well-deserved summer break, tucked inside the envelope of my teacher's end-of-year gift card will be this little note:


Dearest Teacher,

I hope you know just how terribly important you are, not just to my darling kiddo, but to me as well. You are the rock in our life.

Though this may not sit well, please, please don't strike. My community has spent almost a decade trying to build a schoolhouse that would do us all proud; a strike may very well undo all our progress. Do you really want to go back to Chicago, circa 1987?

Both the Mayor and the CEO have said that teachers deserve a raise. Hear, hear! I have no doubt you can reach a reasonable number (somewhere between 2 percent and 30 percent) at the bargaining table — the place where your leadership agreed to resolve disputes.

But most importantly, next year's students shouldn't miss one single, solitary, second of wonderful you.

Enjoy the summer! SB7/SPF 70,
Much love,
Jacqueline, a CPS mommy
October 2nd, 2011 by jacqueline
Tell anyone over fifty that October fifth is International Walk to School Day, the highlight of an entire month devoted to the concept, and you'll likely get back a blank stare, furrowed brow, or outright laughter. "Nonsense," they'll tsk-tsk, "In my day, we walked ten miles, uphill, both ways, in the snow!" Tall-tales aside, as early as five or six, most of us kissed mom, grabbed a lunch box, and trotted off, for what experts considered a routine developmental milestone. I started walking to school in first grade (sparing my older brother embarrassment by lagging a half-block behind); it's no coincidence that the woman who greeted me everyday, Mrs. Davis, was the first teacher who asked me to believe in myself.
How did an entire generation of grade schoolers wind-up fat, lazy and bored, lashed to the backseat of a car? Current explanations for why urban kids no longer walk or bike to school range from increasingly distracted drivers, to inadequate pedestrian and bicycle friendly infrastructure, to drug or gang fueled violence, to the ultimate deal breakers, pedophilia and abduction.
While far too many disadvantaged neighborhoods are indeed dangerous for children (and adults), the vast majority of American cities are actually quite safe. Lenore Skenazy, fellow HuffPo-blogger and author ofFree Range Kids: How to Raise Safe, Self-Reliant Children Without Going Nuts with Worry, implores overprotective parents to get a grip. Forget the media hype: today's crime rate is actually the lowest it's been in decades. The risk of a kid getting abducted, raped or shot on the ten- or fifteen-minute walk to school in a stable neighborhood is about as likely as getting hit by a meteor.
While the possibility of getting hit by car trumps stranger danger by a mile (strangers kidnap about 115 children each year, whereas 250,000 children are injured in auto accidents), the real threat is virtually infinitesimal. Turns out, harried parents navigating the "drop-off" and "pickup" mayhem are to blame for 50 percent of all car accidents involving children near schools. Arguably, fewer parents driving kids would translate into fewer parents hitting kids. Of course, that would mean that more parents would need to teach their kids how to unplug, zone-in and obey traffic signals, hardly an unreasonable lesson. And, with all that extra oxygen around schools, our munchkins would stand a much better chance of staying alert.
If we could simply overcome our irrational fears, children would scamper down the street in droves, just like good ol' days, right? The sad truth is that even the fittest, bravest or most conscientious kids (empowered by environmentally savvy, risk-tolerant parents) cannot realistically walk to school if they don't attend the school in their neighborhood.
Here in Chicago, like most cities, middle-class families overwhelmingly reject their neighborhood school in favor of reputable magnet schools outside their catchment zone. However, the most desirable magnets admit students by lottery or testing, and demand far outstrips supply. Consequently, the city's entire five-year-old population is locked in a frenzied scramble for a few hundred spots, many of which are already gobbled up by sibling preferences. Just how fierce is the competition? It's statistically harder to get your kindergartener into one of Chicago's top public magnet schools than it is to get your high school senior into Harvard. For the lucky ones, hours each day locked in rush-hour traffic seems like a small price to pay for a golden ticket.
Frustrated by the totally insane public/private school gauntlet, my girlfriend and I ventured insideNettelhorst, our neighborhood's underutilized and struggling public elementary school to see just how terrible the place was. The new principal, Susan Kurland, asked what it would take for us to enroll our children. Stunned by her candor, we went home, stuck our toddlers in front of Dora the Explorer, cracked open a bottle of wine, and started to dream big. We returned the next day armed with an extensive wish list; Susan read it, and said "Well, let's get started, girls! It's going to be a busy year…"
Together, we galvanized neighborhood parents and then organized an entire community to take a leap of faith, transforming a challenged urban school into one of Chicago's best, virtually overnight. Take a virtual tour; promise, it'll knock your socks off.
My group of parent reformers didn't wait for some fancy, new, educational initiative to fall from the sky. Here's the secret: you already have the power to create change in your community from the ground up. Yes, fixing what's broken requires work, and a good blueprint certainly helps, but our crowd wasn't a bunch of nuclear physicists building a reactor. This is elementary school, people.
So, this October, by all means, lobby your representatives for more sidewalks, stop signs, crossing guards, and bicycle lanes. And on the fifth, ditch the car, inflate balloons, paint signs, and make the momentous trek to school, with a "walking school bus" escorted by police or parent volunteers if that's what it takes. Better still, gather up some friends, march right into your neighborhood school, and ask the principal what you can do to help.
Public schools belong to the public, and that's all of us. Education reform will take leadership from the top, but ultimately it's our collective responsibility to wrap our arms around our schools, and make them the heart of our communities. If we can't do that, no amount of get-off-your-butt/get-on-your-sneakers cheerleading will make much of a dent. If we hope to reform education, it's only going to happen neighborhood by neighborhood, block by block, one school at a time.
March 22nd, 2011 by jacqueline
Also printed in the Huffington Post
When the real Rahm Emanuel offered the fake Rahm Emanuel $5,000 to reveal himself, it was anybody's guess who the doppelganger was, or which charity would get the cash.
Thanks to the magic of Colbert, the whole country now knows that Columbia College journalism professor Dan Sinker is the creator of the infamous fake Twitter account, but few know that he donated his reward to Young Chicago Authors, the subject of the powerful new documentary, Louder Than a Bomb (LTAB).
Before the film airs on the Oprah Winfrey Network, my public school, Nettelhorst, will be hosting a public screening, followed by discussion with film's co-directors, Greg Jacobs and Jon Siskel (nephew of Gene).
As life, politics and art are forever intertwined in my little, big town, here's the skinny:
LTAB, presented by Young Chicago Authors, is the country's largest teen poetry slam.
It's fitting that professor (and Nettelhorst grandfather) Bill Ayers has judged the festival for over a decade now, and the performances reflect all the fiery passion and social activism for which he is known.
"LTAB is a place where the dreams , aspirations, knowledge, and skills of youth are sensible starting points for learning," Ayres says, "where young people are treated as valuable and where they can find ways to become people of values, where children can read critically, speak openly, and think freely."
In the spirit of this mission, LTAB manages to bring Chicago's youth together across all racial and socioeconomic lines. "For three minutes at a time the students speak about their lives," said LTAB artistic director and co-founder Kevin Coval. "For the other eighty-seven minutes, they are listening to the lives and stories and dreams of others, kids that don't look like them and come from different neighborhoods. In listening, the city shrinks."
As the only elementary school represented in the LTAB program, Nettelhorst kids are lucky to be a part of such a diverse, collaborative, environment.
In their integrated Drama and Language Arts unit, our sixth and seventh graders have spent the last few weeks presenting, critiquing, and rewriting pieces inspired by Nikki Grimes' Bronx Masquerade.
Superstar drama teacher Chad Kimmel insists the LTAB experience has inspired and challenged his students to "find their own voice while learning to listen to others, a skill that will serve them well as adults." My kids, Maya and Zack, age 12 and 10, both think Kimmel's class rocks.
Rooting the poetry slam at the school level is uniquely Chicago. In other cities, kids begin as solo competitors, and then, winners are farmed into competitive teams. Here in Chicago, however, the program fosters a collaborative environment at the inception, much like a sports team, where kids feel safe to express their strengths and vulnerabilities, all under the watchful eye of caring adults.
While competition may seem to be the program's primary goal, it's really a bait and switch. Over the three weeks, the competition melts away, and what remains is the core "team" lesson incubated from the beginning.
That powerful sense of community, in turn, radically impacts the entire school culture. "While Chicago's approach may seem haphazard," Jacobs insists, "we think it should be everywhere. LTAB is the way the world is — and the way it should be — and that is transformative."
The one-two punch of LTAB and @MayorEmanuel's twitter buzz may prove enough of a catalyst to spark transformative change beyond Chicago. Siskel and Jacob's are on a mission to get their film in every school in America, and then channel the resulting enthusiasm into an online writing and performance hub for students, teachers, and parents.
In much the same way that Dan Savage's It Gets Better Project became an accessible, supportive community, the directors imagine a forum where kids have the freedom to express themselves in boundary-breaking ways.
At every screening — and the film has reached over 5,000 students so far — enthusiastic kids inevitably ask, "Why don't we have this?" The directors hope that someday soon their answer will be "Why, you already do!" If you have ideas about how to support their larger dream, shoot them an email.
Despite all the movie hype, Young Chicago Authors is a super-strapped not-for-profit, and money helps. Since Sinker revealed himself, donors have logged on to causes.com to match Rahm's gift dollar-for-dollar, and two local radio hosts kicked in an additional $1,000 each.
The grand total's up to $12,000 now, which is great, but not nearly enough to keep the lights on. Maybe you'd like to help, too, but are feeling a bit hesitant?
As the fake Rahm is deep in a time vortex, here's a little twitter nudge from the real Dan Sinker:
"Every dollar that goes to Young Chicago Authors changes lives. Donate if you can."
Need more? Here's a nudge from the real Rahm Emanuel: "I want every child in Chicago, if they have academic interests, athletic interests or artistic interests, to have an adult supervised activity where their own self-esteem can find a voice. Nettelhorst has taken the whole idea turning a neighborhood school it into a community center, and our city is richer for it. After-school programs like Louder Than a Bomb make Chicago unique. And it's a great, great movie.
Still more? This nudge from brilliant poet and activist Kevin Coval, cuz beyond my City of "Big Shoulders," there's a whole country to beautify:

The Meaning of Children
Chicago/America, your children are born,
To travel underground, and supposed to get high
brow bootleg mega-mixes on old Maxwell St.
Sundays; white socks, watermelon and churros.
we are born to over stand and glide high thru tree lined streets,
born to inter-sect, cross-pollinate and miscegenate,
blur all fences and neighborhood lines ever
erected, we
concentrate
in attention delirium cuz there is a city –
country to beautify –
we are born
to make the hole holy, throw-up and fill in
the widening gap between those who have
and those who have to rent, born to master-
piece the backside of Picasso's cold blooded bird eyes,
born to scratch-bomb the hidden underbelly of CTA
buses and under overpasses cut holes holy in chained –
links where beds could be made and we are born to wreck
freight train mural names emblazoned in the eye's night
of I-94 where Metra tracks chug suburban sprawl,
we Chicago /america, the children of reagan/Daley, know all
the heroes are broken like our fathers
but who said you had to be
perfect, let's start with honest:
everything we love is stolen,
every melody and word and brush stroke borrowed
or muscled or appropriated from what came before.
let's be honest about what came before:
DuSable should be a college
at the mouth of the river just east on the north bank
paid for by Chase and JP Morgan and all slave made
institutions, bring on the reparations Sekou Sundiata
echoes in the departed air where his mouth once moved.
let's be honest Chicago/america
you don't understand us
you are kinda boring and won't listen
when we want to play you
our record since 1973
but now that that record
that that record that that
record sells
Cheeseburgers and hondas
and that that record sells
more than imported beatles
i'll say this
i dig Bach
but do you know who Jesse De La Pena is.
i read Elliot
but do you know MF Doom is Zev Luv X
or that his brother is dead.
i wanted to but was too broke to see Baryshnikov
but do you know Wakka is the illest
b-boy on the planet and lives in a basement
at Noble and Chicago where he cleans
the bodies and rooms of old people.
Chicago/America
we your children are born to inter-sect,
cross-pollinate and miscegenate
blur all neighborhood fences ever
erected, we
concentrate
in attention delirium
cuz there is a city –
country to beautify.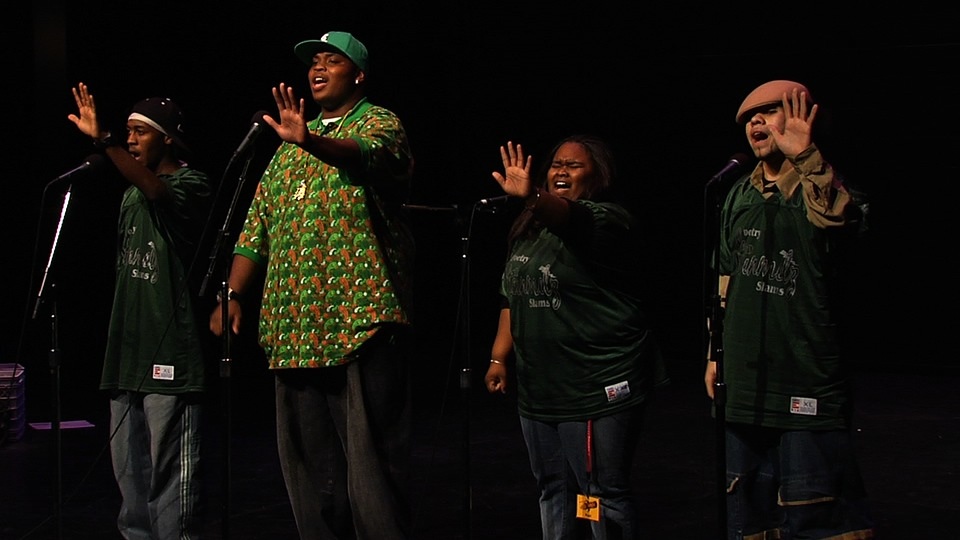 photo courtesy of Siskel/Jacobs Productions
March 14th, 2011 by jacqueline
Pearson and education expert Laura Berk created a great piece–click here to watch the Nettelhorst story on YouTube.
March 14th, 2011 by jacqueline
Also printed in the Huffington Post
Governor Scott Walker thinks that Wisconsin's a giant domino that's going to tumble over into Illinois, as evidenced by my state's proposed Performance Counts legislation; um, don't bet on it. While our law would tweak the collective bargaining process, it does not eliminate the teachers' right to bargain or even strike. So, comparing what's happening in here to what's going on up north is like comparing apples to oranges. Vilifying teachers will not build better schools; keeping kids at the forefront will.
In Illinois, Performance Counts legislation links tenure to student academic growth, streamlines the dismissal process of ineffective teachers, and also makes the contract negotiation process more transparent and focused on what's best for children.
Teachers would earn and keep tenure based on effectiveness as determined through multiple measures (not just test scores).
Teacher performance would become the primary factor in teacher layoff decisions, effectively ending "last in, first out."
Both principals and teachers would need to agree for a teacher to serve in a public school, effectively ending "forced placement."
Making strikes a true last resort by requiring transparency and an independent fact-finding process (37 states already prohibit teachers from striking).
Fine-tuning the collective bargaining process is not the same as throwing the baby out with the bath water.
While people may be at odds over who's to blame for the current crisis in education, one thing everyone seems to agree on is that a quality classroom teacher is the single most important school-based input-factor in student performance and lifetime achievement. The evidence has been mounting for years, but a recent groundbreaking study by superstar Northwestern economist and fellow Nettelhorst mom Diane Whitmore Schanzenbach actually quantifies it. Diane's team found that when a student moves from a below-average teacher to an above-average teacher, the child's adult earnings rise by about 3.5 percent per year, amounting to more than $10K in additional lifetime income. When you multiply a teacher's impact by the number of students in each class, a great teacher adds a whopping $320K in extra lifetime earnings to her entire class!
So, if a great teacher produces great results, what does an ineffective teacher produce? Turns out, it's a pretty shoddy product. A recent study by Eric Hanushek, the Hanna Senior Fellow at Stanford's Hoover Institute featured in Waiting for "Superman", proves that an above-average teacher produces a year and a half's worth of normal test score gains in a single academic year, while a below-average teacher raises their students' scores by only a half a year. Consequently, unlucky children saddled with poor teachers fall further and further behind.
In a city like Chicago, which suffers from a colossal achievement gap (only 6 percent of CPS high school freshmen will graduate from college), the disparity might seem insurmountable. Not so, says Hanushek. A great teacher can bring even the lowest performing students up to grade level in just three years. If great teachers, or even merely average teachers, replaced their lowest performing counterparts, Hanushek predicts the nationwide economic impact due to increased test scores and higher future earnings would amount to $100 trillion, roughly the same number of clams required to wipe out the entire national debt.
Knowing all this, it is maddeningly unclear why principals cannot easily remove the poorest-performing teachers from their schools, a fact I wouldn't have believed if I hadn't seen it with my own eyes. Eight years ago, when our group of mommy reformers first set foot in Nettelhorst, our neighborhood's underperforming and underutilized public elementary school, some teachers walked the hallways muttering obscenities, and one even had a restraining order against her for hitting students. I'm not saying these folks didn't love their craft, or that maybe, once upon a time, they were even decent educators, but by any reasonable standard, they didn't belong in any classroom, my kid's or anybody else's. We knew who shouldn't be there, the principal knew it, the students sure knew it, and so did all the other teachers. The stoic union investigators dispatched from central office even seemed to know it, too.
We didn't have time to sit around waiting for a Kafkaesque lumbering bureaucracy to self-correct. Our principal gave the curriculum team carte blanche to review curriculum and financial plans, weigh-in on hiring decisions, and most importantly, access to document teaching styles. Funny thing happened: with all those pesky parents roaming the halls and peeking into classrooms, within two years of our reform movement, almost every single ineffective teacher left Nettelhorst, voluntarily.
Unfortunately, it doesn't take too many disgruntled teachers to contaminate a staff. When the most negative forces left, the school's extremely toxic teaching climate improved dramatically. Test scores tripled across every demographic. My kids, who started at Nettelhorst in preschool, are now in fourth and sixth grade, and I'd put their education — one without any gifted program, selective enrollment or tracking system — on par with any private school in the country. Our teachers are that good.
While we can all cheer the parental pressures that helped to transform my little neighborhood school, and celebrate the extraordinary, award-winning teaching that's happening on the corner of Melrose and Broadway, the question still remains: In what backwards universe could adults allow this deplorable situation to fester? What about all those public school kids who don't have hyper-involved parents advocating for them, day in and day out?
In nearly every profession, job performance is reviewed annually, and individual excellence is recognized and rewarded. In Chicago, however, most teachers receive lifetime tenure after working just four years with "satisfactory" performance, a rubber-stamp rating that's given out like PEZ. Imagine running a business with tenured employees who only need to demonstrate "competence." Imagine a system that makes it nearly impossible to remove individuals who fall short of expectations. What would your workplace climate feel like? And, what kind of product would you produce?
Let's be clear: I love, love, l-o-v-e teachers. You couldn't pay me enough money to spend all day in an elementary school classroom. I was also weaned on unions; during the teacher strikes in the '70s, my professor mom, who once taught seventh grade at Brooklyn's Ditmas Junior High School, kept us home for weeks in solidarity rather than cross a picket line (backgammon anyone?). I'm pretty sure my mom would have had us hand-delivering pizzas to the protesters in Wisconsin, too.
To Governor Walker: we know you also love teachers, but the teachers union is not the enemy, nor is collective bargaining. In my state, our democratic leaders have a long history of working hand-in-hand with public employees — particularly teachers — on important legislative initiatives, including Race to the Top. It's not always rainbows and sunshine, but here, in beyond-broke Illinois, education reform groups, teachers unions and education management groups are working together to bring about lasting, systemic change.

To the protesters at the Capital: we know you love children, too, but the status quo cannot continue. If you want to be treated like the professionals that you are, you'll need to accept some of the rigor that comes with the title, starting with accountability.

To everyone on both sides of this debate: there's plenty of blame to go around. If we're going to see school reform, real school reform, we're going to need to start asking tough questions and demanding serious answers — answers that are in the best interest of children, not adults.
March 14th, 2011 by jacqueline
Also printed in the Huffington Post
As Governor Quinn signed historic anti-bullying legislation at Nettelhorst, my neighborhood's public elementary school last summer, it came as no surprise when Unabridged, our beloved independent bookstore across the street, asked us to host their upcoming discussion for the release of It Gets Better: The Book. The real shocker, of course, is that a public elementary school openly discussing LGBT issues hardly raises an eyebrow anymore. For my school community, it's been long, arduous road to normalcy.
Here's the back-story: Despite our school's reputation for inclusiveness, two years ago, some Nettelhorst students bullied a gay substitute teacher and a few classmates of same-sex parents.
While our principal reacted to each incident swiftly and appropriately, concerned parents organized a diversity committee to help Nettelhorst foster a culture of tolerance and respect, not just for gay kids, or kids of gay parents, but all kids.
With a new diversity curriculum in place, the committee co-opted the school's annual Fabric Fence public art project to help drive the point home. At the end of the school year, parents, teachers and students installed the piece on the playground fence as usual, but this time, we arranged the colored fabric strips into the pride rainbow sequence, and posted this little sign:
Each Nettelhorst student has tied a piece of fabric to the fence as a tangible sign of his or her personal intention to create a better world. As Nettelhorst, we've also made a collective intention: that each of us becomes kinder, gentler, and more tolerant. Here, the rainbow colors of gay pride are a visible sign of our respect for the neighborhood of which we are a part, and the diversity of families that we serve. In June, Nettelhorst will be the first public school to walk in Chicago's Gay Pride Parade. We believe family means everybody. Enjoy the summer: SPF 50, baby!
20,000 people pass by Nettelhorst's playground every single weekend. Many of them stopped, smiled, high-fived, tweeted and posted; some even cried. We never could have anticipated that our rag-tag public civics lesson would have inspired such a deeply personal, neighborhood catharsis.
The mainstream media praised Nettelhorst for fighting the good fight. "This is about kids, not about politics or gay marriage," a full-page Chicago Sun-Times editorial declared. "Whether you support gay marriage or not — and we do — these families are here, in our midst. They are our neighbors, our children's classmates, and our co-workers' children. Once we acknowledge that, it's not a stretch to want to treat them with respect. This is how we change the world: one child at a time."
When the Chicago Tribune ran a front-page story cheering our efforts, Nettelhorst landed on every hate blog in the country. We even had the "God Hates Fags" Phelps Clan up from Kansas protesting (yup, the same whackos behind the recent Supreme Court free speech ruling and Sarah Palin's twitter gaffe de jour). Critics accused the school of corrupting innocent children, and using them as pawns in a decidedly liberal social agenda, all on the taxpayers' dime, no less. The corner of Broadway and Melrose, in the heart of Chicago's Boystown, had become a post-modern Sodom and Gomorra.
With all the hate mongers warning that our kids would be gunned down or turned into salt, it wasn't long before some originally enthusiastic parents started to break ranks. Bravado wasn't going to protect the children from a rifle-slinging lunatic. "Look, Jacqueline, I love whales, too," one shaken friend reasoned, "But I'm not putting my daughter on a boat for Greenpeace." Tempers flared and friendships strained as our happy kumbaya gesture turned deadly serious. Had hubris, heaps of press coverage, and 50 yards of recycled fabric shreds really put our kids in danger? Columbine, Santana, Virginia Tech, Anchorage, Essex, Lancaster, Newark, Portsmouth, Tacoma, Carlsbad, Placerville–how many tragic examples did we need?
When I got a threatening phone call at home, I nearly peed in my pants. At that moment, our struggle became crystal clear: it didn't matter where this street fight was taking place — this was the nonsense we were up against. If our school community couldn't take a stand against discrimination, what kind of example were we setting? If our kids learned arithmetic at school, but had no idea what one plus one really equaled, what lessons were we teaching them?
And, so it was, that on a sun-soaked summer afternoon, 200 Nettelhorst families — both gay and straight — marched in the parade; in fact, we led it. The outpouring of support from the 140,000-strong crowd was like nothing I've ever experienced. It was as if we were taking away generations of hurt, a surreal-rainbow-glitter-therapeutic coronation.
"It takes real courage to stand tall against bigotry," said our State Representative Sara Feigenholtz, "While I've been fighting tirelessly for basic human rights legislation in Springfield for years, what's incredible is that these children have shown us what it truly means to value equality, dignity, and each other." Chicago's first openly gay Alderman, Tom Tunney, also marched in the parade proudly wearing his Nettelhorst Pride t-shirt. "Time will show," he professed, "on this day, Nettelhorst was on the right side of history."
Well, our representatives must have been clairvoyant: the following year, Nettelhorst marched in the Parade once again, only this time, we marched with employees from U.S. Cellular, another elementary school, and the openly gay Chicago Public Schools' CEO, Ron Huberman, pushing his baby in a stroller; flanked by the Governor, and the Chicago Blackhawks, hoisting aloft their hard-earned Stanley Cup. In what seemed impossible just twelve months earlier, the establishment stood with our families to say, out loud, in one strong voice: Every school should be a safe place to learn, where all kids feel free to be wholly themselves.
President Obama is one of the nearly 10,000 contributors to the It Gets Better Project, the brainchild of syndicated columnist and author Dan Savage, and his partner Terry Miller. "We need to dispel this myth that bullying is a just normal right of passage; that it's some inevitable part of growing up. It's not," the President says in his video. "We have an obligation to insure that our schools are safe for all of our kids." Hopefully, the upcoming White House Conference on Bullying Prevention will help give that sentiment some real teeth.
Of course, It Gets Better won't solve the problem of bullying overnight. "But while we work to make our schools safer," insists Savage, "the book's message of hope — from celebrities, politicians, artists, authors, athletes, and everyday people — can help kids who are suffering right now."
How can you help? If a copy of It Gets Better could find a home in every school library in America, think how many teachers, administrators and parents would have the tools they need to improve their school's climate. Imagine how many students, who might not have access to YouTube, could begin to envision a brighter future for themselves as openly gay adults–a life filled with joy, family, and love.
It can start getting better for kids, right here, right now, if adults will it to be so.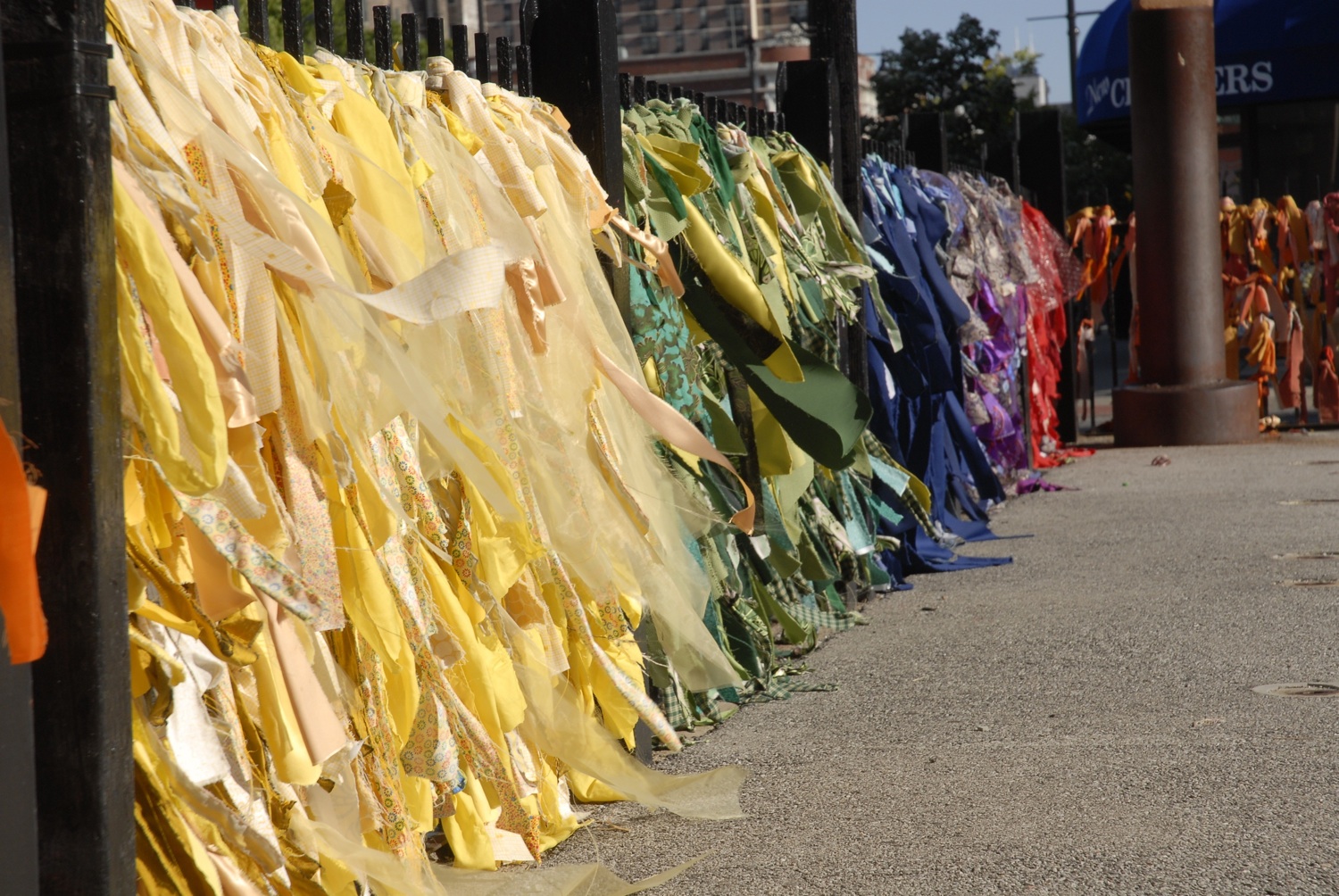 March 4th, 2011 by jacqueline
Pearson and education expert Laura Berk created a great piece–click here to watch the Nettelhorst story on YouTube.